Kosovo Business Association Delegation Visits the Istanbul Chamber of Industry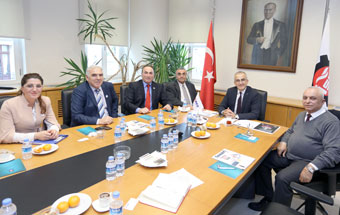 The Istanbul Chamber of Industry (ICI) hosted the Kosovo Business Association delegation. Led by Agim Shamimi, President of Kosovo Business Association, the delegation is in Turkey for a series of meetings. The meeting with the ICI, held at the ICI headquarters and hosted by İrfan Özhamaratlı, Vice Chairman of ICI Board of Directors, was attended by Vice President of Kosovo Business Association Suat Berisha, General Secretary Lumnije Ajdini, and Kosovan journalists. 
Providing information about the ICI's organization, activities and its members' contribution to the Turkish economy, Özhamaratlı stated that Kosovo is very important for Turkey and that they are ready to contribute to the development of the relations between the two countries.
İrfan Özhamaratlı pointed out that Kosovo was featured in detail in the December issue of the ICI Industry magazine with a view to promoting to the ICI members trade and investment opportunities offered by Kosovo. He also added that an introductory seminar on Kosovo could be organized within the 2017 business plan.
Shamimi said that the Kosovo Business Association is among the four major non-governmental organizations representing the business world in Kosovo, and that they attach great importance to growing the volume imports from Turkey rather than Serbia, which currently has a share of 16% in Kosovo's imports. Shamimi mentioned that they continue their efforts for validating the Free Trade Agreement, which was signed between Kosovo and Turkey for this purpose but could not go into effect because it was not ratified by the Kosovan Assembly.
Stating that Turkey is the biggest investor in Kosovo, Shamimi underlined that they expect large Turkish companies to bid in tenders of the ongoing railway project as well as privatization projects in tourism, mining and telecommunications in Kosovo. Shamimi added that ICI and Turkish investors will certainly be notified of any upcoming tenders. Shamimi shared detailed information about the investment environment, tax rates and cost of labor in Kosovo, noting that there are investment opportunities particularly in food, textile, apparel and footwear industries in Kosovo.