Minister Özlü Gives Full Support to ICI on "Intellectual and Industrial Property Rights"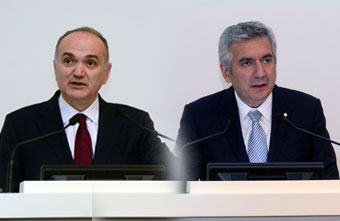 The ordinary monthly assembly meeting of Istanbul Chamber of Industry (ICI) for August was held on August 24, 2016 under the main agenda of "The Future and The Role of Our Industry While a New Success Story is Being Built for Turkish Economy". Faruk Özlü, Minister of Science, Industry and Technology was the guest of the monthly Assembly meeting chaired by Zeynep Bodur Okyay, ICI President of Assembly..
Taking the floor before the ICI Assembly, Faruk Özlü noted that the entire Turkey woke up to facts and assumed a bigger role after July 15 and added: "This period showed us how strong our economy and democracy are." Stressing that the most critical next step for Turkey is paving the way for investments and employment, Özlü said that Turkey's goals remain intact. Noting that Turkey should not be a mere spectator of the new industrial revolution, Minister Özlü added: "We cannot afford to lag behind in the 4th Industrial Revolution. We call on Istanbul's industrialists to pioneer this transition".
After listening to the problems of Istanbul's industrialists with the Organized Industrial Zones (OIZ), Minister of Science, Industry and Technology Faruk Özlü called for cooperation between ministry representatives and ICI to find a solution that would help the industrialists. He stated that such a meeting would also offer an insight into ministry's current plans regarding next generation OIZs and urged for holding this meeting in the earliest convenience.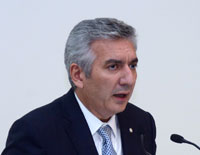 "The Production Reform Package that will remove the obstacles to production will shed light on our new economy. On the other hand, infrastructure, logistics and energy needs of next generation OIZs should be fulfilled by the state. OIZ lands and buildings must be leased for the long term to prevent any unfair income," noted ICI Chairman Bahçıvan on the Assembly agenda.
Minister Özlü responded to ICI Chairman Bahçıvan's Assembly meeting floor statement about the Intellectual and Industrial Property Rights. In response to Bahçıvan's statement, "Swift enactment of the Draft Law on Intellectual and Industrial Property Rights is very important both for local and international investors," Minister Özlü declared that the Draft Law on Intellectual and Industrial Property Rights would be the first agenda item of the Grand National Assembly in October, when the Assembly will return from the summer recess, and that they would pass the law as soon as possible.
Zeynep Bodur Okyay, ICI President of Assembly delivered the opening speech at the Istanbul Chamber of Industry's ordinary assembly for August. The highlights of Okyay's speech on the hot topics are provided below: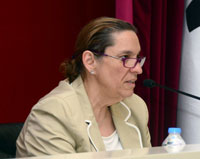 "The July 15 coup attempt showed us how serious was the threat faced by our country. It is possible to refer to this event as the 9/11 of Turkey. Turkey has been going through hard times, especially lately. The recent terrorist attacks are an indicator of these. Meanwhile, there is a military operation launched in Syrian border today. We wish success to all operations against those who pose a threat to Turkey's integrity. We also support the elimination of the threat that infiltrated all institutions of the state. At ICI, we are fully behind the government's efforts for purging the relevant actors from the business world in accordance with the rule of law. We believe that we must tell the events to the world, and actually, now is the time to look ahead. We must produce more during this process. We will continue our investments without losing steam. Turkey is a global model with a significant reputation. Now, we need a new success story, and the responsibility falls on our shoulders as industrialists. The road to success lies in industry. We are very pleased with the efforts towards R&D incentives, and we highly appreciate the technology platform. In our opinion, it is high time Turkey to transition into high technology by overcoming any obstacles."
ICI President of Assembly Okyay then invited ICI Chairman Erdal Bahçıvan to take the floor with a speech on the main agenda item of the Assembly. Starting with the key importance of the Ministry of Science, Industry and Technology for industrialists, Bahçıvan described the ministry as the organization that would guide and collaborate with industrialists and help shape the future of industry. He thus expressed ICI's appreciation of hosting Minister Özlü in the Assembly meeting held ten days after the "Trust in Turkey, Produce in Turkey" conference. Bahçıvan expressed his belief that cooperation will be improved and enhanced during Özlü's term of office.

Bahçıvan stressed the necessity of keeping abreast of and adapting to global developments whilst building a new success story for Turkey and discussing the industry's future, as the rapid advances in technology transform the world. Referring to the paradigm shift both in daily life and in production, Bahçıvan noted that they witnessed technological developments that were beyond imagination even a few years ago. He went on to say that with the growth in "Big Data", smart machines featuring artificial intelligence would attain self-development. Noting that the advances in 3D printing is set to revolutionize production, Bahçıvan pointed out that smart products, which not only transfer and store but also generate and assess data would play a role in creation of the next generation commerce networks.
Bahçıvan went on to state that these technological developments would not necessarily yield positive results for everyone, as past experiences showed, and that a tough competition in which some countries would win against others was the reality of today's world. Bahçıvan continued his remarks:
"I think it is important to make this clear: it is no longer feasible to participate in global competition with a traditional production structure with low added value. Winners of this era will be those who focus on and make long-term investments in science, education, technology and innovation. Changing the name of our ministry from Ministry of Industry to Ministry of Science, Industry and Technology is not simply a revision of titles, but a change in vision. We need to enhance our products with more added value, innovation, and intelligence. One cannot help but agree with Prime Minister Binali Yıldırım on his statement: 'What we need to do now is increasing the unit price of all commodities that we supply'. Therefore, while building a new story of economy -our main agenda item- we have to establish a system that combines production and exports blended with a higher focus on technology."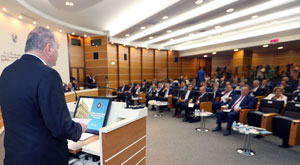 Bahçıvan noted that the minimum required number of full-time equivalent personnel to be employed in R&D centers was determined as 15 in the new regulations that entered into force as per a Cabinet decree at the beginning of this month, enabling many companies to establish R&D centers of their own, and also pointed out that R&D incentive limitations should go beyond the number of employees and include criteria for qualification and value as well.
Bahçıvan argued that the 2015 results of ICI's "Turkey's Second Top 500 Industrial Enterprises" survey published at the beginning of this month supported this argument, noting that high-tech sectors increased their share in the gross added value in the Second Top 500, which includes relatively more SMEs than the ICI Top 500. The increase in high-tech industries' share, from 4.3 percent in 2014 to 6.6 percent in 2015, was a promising development according to Bahçıvan, who noted their pleasure and optimism about the 26.9 percent increase in R&D expenditures in the same period.
Expressing their full support to the production reform package described by Minister Özlü as "removing the obstacles to production, and paving the way for investments to drive Turkey towards its goals", Bahçıvan noted that these efforts would further flame the passion for production, contribute to Turkey's development and enhance social welfare. He went on to stress that, instead of regional conventional incentives, industry and industrialists needed a reformist incentive system featuring a new, customized, tailored and project-oriented model which would take into account company needs.

Bahçıvan also noted that they were glad that the model underway included exact referrals to suggestions of the Istanbul Chamber of Industry in terms of framework and new supporting arguments.
Bahçıvan continued his speech as follows:
"Another matter of particular concern to industrialists is the Organized Industrial Zones (OIZs). The Ministry of Science, Industry and Technology conducts extensive projects on this matter as well. Without any doubt, the eight OIZs to be inaugurated by the end of this year and the efforts towards contemporary Next Generation OIZs will prove a major boost to industrial transformation. We are of the opinion that infrastructure, logistics, treatment, recycling and energy needs of the next generation OIZs should be fulfilled by the state. These OIZs should feature technology development and excellence centers, research and education institutions and laboratories, and they should participate in university-industry collaboration. Lands and buildings that will be used by the next generation private OIZs must be leased for the long term to prevent any unfair income."
Reminding about their new Yenibosna and Ümraniye branches opened in March 2014 on the European and Asian Sides of Istanbul, respectively, to provide its members with faster and easier access to ICI's services, Bahçıvan told that they had witnessed the satisfaction of their members with the new branches, and received very positive feedback. Bahçıvan heralded the opening of Tuzla Service Unit in response to the demand by local industrialists. He also informed that the service unit would be put into operation on Monday, August 29, 2016 at its office within the Istanbul Anatolian OIZ.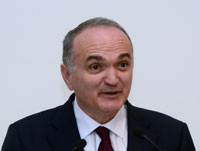 Faruk Özlü, Minister of Science, Industry and Technology took the stage next and started his speech with a reference to President Recep Tayyip Erdoğan's statement of "Istanbul is the essence and summary of Turkey." Özlü stated that one would need to understand the industry in Istanbul in order to understand the Turkish industry in general. Reminding that many Assembly Members had investments not only in Istanbul but also throughout the Anatolian region, Özlü said that addressing to the ICI Assembly is addressing to the whole country. He then stated his wish to meet with the Istanbul Chamber of Industry at every possible opportunity.
Özlü continued his speech with the following remarks:
"We will work in close cooperation with you in order to improve our industry by taking the necessary steps and making the necessary regulations. We will always be in close contact with you. We are on the eve of a new era in which we need to commence a profound transformation. I wholeheartedly believe that Istanbul will be the leader of Turkey's transition to next-generation industrial applications."
Özlü mentioned about the Istanbul Chamber of Industry meeting that was held on August 12, providing an opportunity to make long discussions with the executives of international companies that produce in Turkey. Noting that even title of the meeting, which is "Trust in Turkey, Produce in Turkey" signifies the important of it, Özlü emphasized that such activities played an important role in recovering from the trauma of July 15 so quickly.
Özlü continued his speech with the following remarks:
"I believe that common goals and harmony between governments and business world are of key importance. It is very promising to establish such a harmony between our business world and public. The accomplishments we achieved by the strong cooperation of our government and private sector made our country proud. When we took office in 2002, we raised Turkey's low national income to middle-income level. Hopefully, together we will make Turkey one of the high-income countries. The government and industrialists have a common current agenda: high-quality production."

Mentioning the increasing R&D expenses in Turkey, Özlü stressed that 2014 marked the first time in the country's history that the ratio of R&D expenses to national income exceeded 1 percent.
Emphasizing that the financial support to the private sector played an important role in increasing this ratio, Özlü mentioned about their activities such as renewing financial support, strengthening R&D and innovation ecosystem for which the R&D Reform Package was developed. Özlü added that secondary legislation to the legal regulations that entered into force with the R&D Reform Package was published in the recent days.
He noted that one of the main agenda items in the new period is the fourth industrial revolution. Encouraging the industrialists in Istanbul to lead this process, he added:
"We always fell behind during the last three industrial revolutions, which left us below our economic targets for years. We cannot afford to lag behind once again in the upcoming industrial revolution, which is mainly based on smart production systems. This process will change both products and the way we produce them. Mass production will be replaced with an almost completely customized production process. New technologies and sectors will come into prominence. Areas such as artificial intelligence, cloud computing, big data, automation, robotic technologies, the Internet of Things, 3D printers and sensors will be some of the most prominent technologies. However, there are a few points to consider - these new sectors will affect all sectors. For instance, industrialists in the automotive sector will need to use sensory technologies and artificial intelligence. Domestic appliances producers will require applications that enable communication and interaction among their products. You will download and install applications for a lathe just like a tablet or mobile phones. In the near future, even shirts will need to be connected to the internet and share information on the user's dressing style to data centers. Most importantly, we are nearing an era where we will need to produce everything in smart factories."
ICI Chairman Erdal Bahçıvan, then shared information on the change of positions in the Chamber Board at the Assembly meeting in August. "Two members of the board, Ali Ulvi Orhan and Mehmet Ata Ceylan, have resigned from their position," said Bahçıvan. "They were replaced by two new members: Aydın Aslandağ and Serdar Urfalılar. I congratulate them on their new positions."
An election was held for the position of Secretary of the Chamber to fill the vacancy left by Serdar Urfalılar. An election board was established, after which the Assembly Members submitted their votes individually. The election saw Kemal Akar as the new Secretary of the Chamber. Akar then took the stage and said: "At first, I was hesitant to assume this new duty since I have many other duties apart from that. But I wanted to undertake it as I want to continue to work at the Istanbul Chamber of Industry. I have been an Assembly member for three terms. Thank you for your votes." said Akar.
Following the speeches, ICI Assembly Members made remarks on the Assembly's current agenda.