Mohsen Jalalpour: "The Current Environment is Very Favorable for the Joint Investments of Industrialists"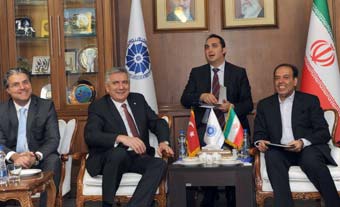 Erdal Bahçıvan, Chairman of İstanbul Chamber of Industry (ICI), visited Mohsen Jalalpour, Chairman of Iran Chamber of Commerce, Industries, Mines and Agriculture on April 30. ICI Chairman Erdal Bahçıvan, ICI President of Assembly Zeynep Bodur Okyay, ICI Assembly Vice President Hasan Büyükdede, ICI Deputy Chairman İrfan Özhamaratlı returned Jalalpour's visit as the Chairman of Iranian delegation on November 27, 2015. Iran Chamber of Commerce, Industries, Mines and Agriculture organized a dinner event the next day in honor of the visiting ICI member industrialists, in which Turkey's Ambassador to Tehran, Rıza Hakan Tekin was among the participants along with the ICI management.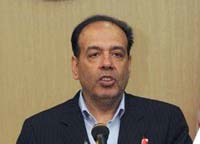 Mohsen Jalalpour, Chairman of Iran Chamber of Commerce, Industries, Mines and Agriculture, said that there was an intense delegation traffic between the two countries, but that they preferred to unite with ICI for being a chamber of industry. Jalalpour noted that their persistence to work with industry chambers would yield more efficient results, and added that both countries would build economic and investment relations through the chamber organizations. Jalalpour expressed the value of initiatives taken by politicians to improve the relations, and also stated that ambassadors of both countries had a strong decree in this task. Jalalpour noted that Turkey's desk at Iran Ministry of Foreign Affairs put it a strong effort, and emphasized that the environment had currently become highly favorable for the cooperation of business persons from both countries.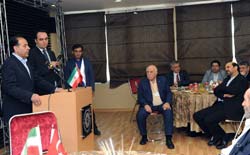 Jalalpour stated that they decided to take significant steps after the visit of PM Davutoğlu, and mobilized the chambers of four northern provinces, and underlined that relations could not progress unless the issues in banking system were resolved. Jalalpour noted that a joint commission was established at the joint meeting of two Ministers in Konya, and expressed their intention to organize a delegation visit of 150 to Ankara and Istanbul.
Jalalpour said, "It is my duty and responsibility to advance the relations with our neighbor, Turkey. After taking over the duty as the new Board of Directors of our Chamber, we have accomplished an unprecedented work. We brought 34 chambers to Turkey, and got in touch with Ankara in Istanbul. These meetings promise a better future."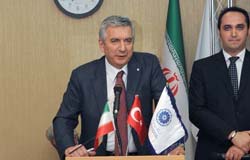 Chairman of ICI Erdal Bahçıvan expressed his respect to Iran Chamber of Commerce, Industries, Mines and Agriculture for showing sensitivity to maintain their relations with ICI. Bahçıvan noted that they had also undergone a refreshing process in politics in addition to experiencing a convergence between the respective business worlds, and added that both countries had been maintaining their amity towards one another for the past 400 years. Bahçıvan, who noted that Iran and Turkey proved their friendship for each other even at the most difficult times, also said: "As our relations go through such a good period, we don't have the luxury to leave any of our shareholders to stay in their zone of comfort. We shouldn't leave bankers in their own comfort while we make so much effort to improve the relations between two countries. Bankers don't have the luxury to avoid this as many people from various sectors of Turkey consider visiting Iran".
Bahçıvan stated that both countries could raise their goal trading volume from $30 billion to $100 billion with great breakthroughs, and also added that two societies, both very young and modern, living in peace in this geographically challenging region, constituted two important factors for reaching this goal. Bahçıvan said: "These two countries will be the most modern bridges connecting Asia and Europe. We owe this to our future as Turkey and Iran. I would like to state that I will support any enterprise in relation to create this vision as ICI."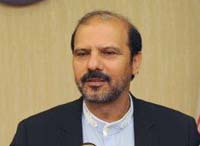 Having reminded that Iran Chamber of Commerce, Industries, Mines and Agriculture made an exception and promised to pay an assembly visit to Iran, Bahçıvan said that they kept their promise. Bahçıvan noted that they wanted to solve any issues before they become permanent, in direct collaboration with the Iran desk to be established, and added that they aimed to increase the employment opportunities for the young generation of both countries.
Ahmed Nurani, Iran Ministry of Foreign Affairs Economic Counsellor in Turkey, was also one of the attendees of the dinner event organized by Iran Chamber of Commerce, Industries, Mines and Agriculture in honor of the ICI members. Nurani expressed his satisfaction for the revival of Iran-Turkey relations after a short period of recession. Nurani noted that he was disappointed by the late reaction of Turkey after the embargo, and suggested working with national currencies. Nurani also mentioned that they would take steps in transportation as well, and added that they would open new border gates.