Morina, Kosovo's Consul General to Istanbul, Visits ICI Chairman Erdal Bahçıvan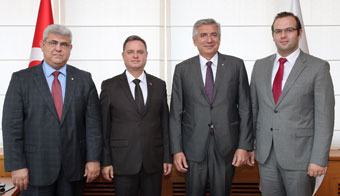 Rrahim Morina, the Republic of Kosovo's Consul General to Istanbul, and Consul Evren Fusha recently paid a courtesy visit to İstanbul Chamber of Industry (ICI) Board Chairman Erdal Bahçıvan. ICI Deputy Secretary General Haktan Akın also attended the meeting held at ICI's head office at Tepebaşı.
Chairman Erdal Bahçıvan, underlined the strategic geographical position of sister country Kosovo, noting that it is a bridge between Europe, Balkans and Turkey and that it is crucial to deliver this message to the rest of the world. Bahçıvan told textiles and apparel are some key sectors offering opportunities for the Turkish investors in Kosovo. It was agreed to organize a Kosovo Day to discuss the opportunities and possibilities in the country, especially for these sectors.
Consul General Morina, who took up this post in Turkey four years ago, on the other hand, highlighted the strategic importance of Turkey for Kosovo. Stating that Kosovo still ranks 66 in the ease of doing business index, the Consul added that it is expected to have a better position in 2017. Morina further explained that the legal regulations facilitating strategic investments are now complete inviting Turkish industrialists to invest in Kosovo where textiles and food industries are well developed.