President Erdoğan Attended B20 Forum As Well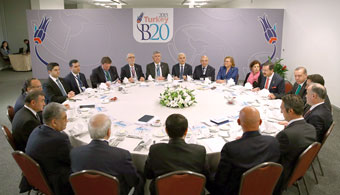 B20 Turkey Business Leaders Forum was held at Lütfi Kırdar ICEC, hosted by TOBB (Union of Chambers and Commodity Exchanges of Turkey) President and B20 Turkey Chairman Rifat Hisarcıklıoğlu. President Erdoğan, Deputy Prime Minister Babacan as well as Istanbul Chamber of Industry (ICI) Chairman and B20 Executive Committee Member Erdal Bahçıvan attended the meeting.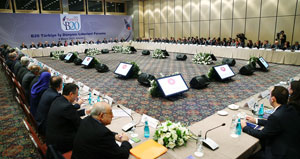 Giving a speech in the meeting, President Erdoğan told that Turkey made a great contribution as an active member of G20 that follows an inclusive international policy for developing and developed countries, and that such a structure is very important for the problems faced by countries with different political systems. President Erdoğan said: "It is necessary that decisions made by the political will be embraced by the business world. The work performed by the platform strengthens the steps taken by the B20. The progress of B20 is a satisfactory one. We trust in our team that powerfully represents the business world. We closely follow the work carried out across different regions."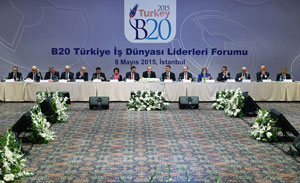 Rifat Hisarcıklıoğlu, President of the Union of Chambers and Commodity Exchanges of Turkey (TOBB) and Chairman of B20 Turkey, further emphasized that only G20 can provide global solutions for global problems. Hisarcıklıoğlu continued: "Ahead lies a key opportunity that may affect G20 leaders and steer the global agenda. We are hosting the next round this year. For the last six years, the world economy has failed to display stable growth. One part of the world recovers while the other part goes from bad to worse. Initially, the central countries such as the USA and Europe had problems. They began to recover. Now, it's the developing countries that encounter trouble. Trade used to be the driving force of global growth. However, we don't see the desired growth numbers in trade anymore. In other words, the cake does not grow at a satisfactory pace, which triggers protectionist policies."