Prime Minister Binali Yıldırım Addresses Turkey at the ICI Meeting: "Our Democracy and Economy Remain Strong As Ever"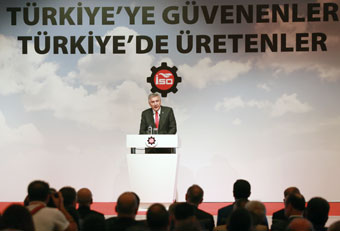 Over 600 ICI member foreign-invested enterprises operating in 74 countries met with Prime Minister Binali Yıldırım at the event held by the Istanbul Chamber of Industry (ICI). Hosted by ICI Chairman Erdal Bahçıvan, the meeting, exploring the theme of "Trust in Turkey, Produce in Turkey", was attended by Mr. Mehmet Şimşek, Deputy Prime Minister, Mr. Bülent Tüfenkci, Minister of Customs and Trade, Mr. Nihat Zeybekci, Minister of Economy, and Mr. Faruk Özlü, Minister of Science, Industry and Technology. ICI Sectoral Committee Members participated in the meeting that gathered over 600 foreign-invested ICI member enterprises from a variety of sectors such as food, automotive, chemistry, and machinery, which have been operating in Turkey for long years and contributing to the country's economic development via production and creating employment.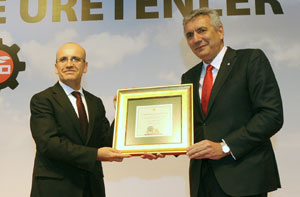 Speaking at the meeting, Hüseyin Gelis, CEO and President of Siemens Turkey; Gökhan Saraç, Executive Vice President, General Counsel and Board Member for Unilever Turkey, Russia, MENA, Central Asia and Caucasus; Ahmet Erdem, Shell Turkey Country Chairman; Ali Koç, Chairman of Ford Otosan; Mahmut Sarıoğlu, Deputy President of The Good Year Tire & Rubber Company; Sami Sevinç, Executive Director of ABB Turkey; Buğra Kavuncu, CEO of BASF Türk; Dr. Altan Demirdere, Head of Sandoz / Novartis Turkey and Middle East; Tankut Turnaoğlu, Chairman of Procter & Gamble Turkey / Caucasus; and Zeynep Sungu, Marketing Services and Corporate Communications Director at Nestle Turkey expressed their trust in Turkey and noted that they would continue investing, producing, creating jobs and exporting in Turkey.
PM Binali Yıldırım, attended the meeting via teleconference as he was in Ankara for a series of official visits. During his speech that was broadcast live across Turkey, Yıldırım thanked Erdal Bahçıvan, Chairman of the Istanbul Chamber of Industry. Addressing the business world, "Our democracy and economy remain strong as ever," he said.

PM Binalı Yıldırım continued as follows: "You have made a quite exhaustive assessment in the meeting. You have had the opportunity to address current issues as well as Turkey's vision on the future of industry and economy. Industry is Turkey's driving force. You are creating employment and adding value to our country. You deserve all the support you receive. Industry is a grueling line of work. You have to love this calling to pursue it, especially under today's increasingly challenging conditions for manufacturing. But once you complete the work and see the results with your own eyes, you forget about all the hardships you went through. I consider industry as one of the leading sectors that will pave the way for our goals for 2023. Meanwhile, we cannot afford to lag behind in the transition to Industry 4.0. In order to attain our 2023 goals, we must combine the tenets of the Industrial Revolution with informatics and technology.
We cannot keep living under the shadow of this coup. Indeed, we have ambitious goals for the future. 2023 is just around the corner. We do not have a day to spare. The way to preserving the achievements of economy lie on protecting the values of democracy. This is why those who attacked Turkey's democracy may be considered to have actually targeted Turkey's bread and butter. The putschists failed to shake the roots of our economy. Our democracy and economy remain strong as ever. We are taking the steps towards enhancing Turkey's investment environment.
We are working on the turquoise card and the green passport. We are making rearrangements regarding the QR Code cheques and bounced cheques. As the Government, we will always be on the side of the real economy. We will spare no effort to develop our economy and create new avenues for employment. In addition, we have brought into effect another set of reliefs for pending debts, such as installment plans, and we will continue to do so in the future. Among you, there are global investors who have been investing in Turkey for years. When it comes to Turkey, facts and external perception are unfortunately in contradiction. This is the work of FETO (Gulenist Terrorist Organization) who misrepresents Turkey as an unstable country. Ignoring Turkey, a country where the rule of law is paramount, is simply unfairn. It falls to you to promote the real Turkey. I extend my gratitude to Erdal Bahçıvan, ICI Chairman, for this meeting that brought together more than 500 enterprises. I wish you a fruitful meeting."

On his keynote speech, ICI Chairman Erdal Bahçıvan reminded that ICI was on the side of democracy without, the will of the nation and the elected government since the very first hours of the July 15 coup attempt by FETO, also known as the Parallel State Organization. Bahçıvan noted that, as a prominent business organization, they condemned the coup attempt as soon as they heard about it through joint declarations, active participation in the "Martyrs and Democracy Rally" held at Yenikapı, and a letter sent by ICI members to more than 18 thousand stakeholders abroad. Noting that as a continuation of these efforts, ICI had brought together PM Yıldırım and Ministers with well-established, foreign-invested ICI members each of whom have made a name for itself in its respective field, and have been contributing to Turkey's economy for many years, Bahçıvan added: "Your presence in this meeting hall is a testament to your trust in the future of Turkey as investors who, for long years, have placed their trust in Turkey and produced in Turkey. What we have here today is the story of those who trust in Turkey and produce in Turkey. This is the story of all of us who work collectively, cooperatively and amicably to spin the wheel of production. Eighteen thousand national and foreign capital ICI members have focused their individual and collective efforts to contribute to the development of our country by sharing their knowledge, experience and vision, and creating synergy.
Share with the global public opinion your confidence in Turkish economy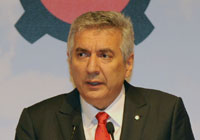 Addressing foreign-invested ICI members attending the meeting, Bahçıvan said: "This critical process for Turkey, cannot be analyzed in an adequate and healthy manner by our friends abroad. Accurate information is of great importance in such a critical process. Our cooperation in action against information pollution, which may damage our healthy and persistent relations, is significant. Without doubt, it will be the most meaningful and powerful support for us if you share accurate information about the events that unfold in Turkey, and announce your faith in the country's economy to national and international public. Indeed, you and the companies you represent are Turkey's valuable delegates, partners and friends. All of you, who are already familiar with the conditions in our country, are in a position that allows you to closely follow and analyze the events in the country. I think that international contact and collaboration needs to be increased in terms of quality and quantity."
Turkey Wealth Fund and Private Pension System to accelerate the economy
On creation of the "Turkey Wealth Fund", described as the "fund of funds", a matter that ICI suggested and that has been in the Government's agenda for a long time, Bahçıvan stated: "The Turkey Wealth Fund will be a source of financing for mega projects, help prevent market fluctuations, and accelerate the pace of our economy."

Bahçıvan described inadequate savings as one of the most important lasting problems affecting the Turkish economy and added: "We believe that making Private Pension System mandatory will be beneficial both for the economy and employees. Another significant step that our Government has taken is 'Cash Repatriation' that is under development with the aim of bringing national and international assets back into our economy. This regulation will create a significant resource while contributing to the formal economy. Another regulation that is in the Government's agenda and also of great importance for industrialists is that, from now on, not only immovables but also movable properties can be pledged as collateral in banks. We are very pleased with this development. This regulation will be a relief for SMEs in particular."
Stressing that the Government acknowledged ICI's proposal suggesting a next-generation Development Bank model and Eximbank to increase medium and long-term loans and make collateral conditions easier with reasonable interest rates, Bahçıvan noted: "At the beginning of July, Mr. Prime Minister stated that the Development Bank will be put into operation and investors will be provided loans under better conditions, and that Eximbank will make loan conditions easier, and we are now looking forward for actions to be taken on these two important issues."
Mehmet Şimşek, Deputy Prime Minister: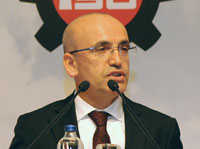 "Our economy may be facing some structural problems, but in general, it has robust roots. If it were not for these strong roots, Turkey would have a much harder time leaving these difficult times behind and financial markets would be in worse conditions. We had a structural reform on the agenda. We managed to return to this agenda topic in a short while.
To create added value, we need to make R&D and develop an ecosystem. For this, we prepared a stimulus package. We are restructuring the Development Bank. The patent law is submitted to the parliament. We hope to pass this fundamental law, as well, with the opposition. Many steps have been taken on the R&D. Now, it is time to turn it into a business. The draft code of experts has been presented to the parliament, and the Istanbul Arbitration Centre has been founded.
In the weeks following the coup attempt, we have made very important revisions to implement savings arrangements. Structural reforms are indispensable to Turkey. Turkey will not break off of the West nor will it give up on the EU. Turkey is a robust economy, and not only a democracy in international standards but also a country integrated to global economy. To sum up, life is returning to normal. And we will complete this process in a short while. We have set the reform path for Turkey. Turkey does not drift away from the rest of the world or retreat into its shell." 
Bülent Tüfenkci, Minister of Customs and Trade: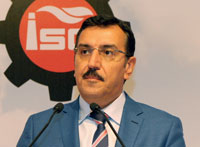 "I believe that your efforts and those of your peers who are not here with us, as well as of Turkish citizens living abroad will be instrumental in changing the negative perception of Turkey that our adversaries seek to create. We set the 2023 goals with you in mind. Our duty as a government is to pave the way for you. We will continue our efforts to improve the investment and business environment. Meanwhile, I am grateful to our chambers and commodity exchanges, who serve as the cornerstones of our economy in this process. I offer my gratitude to all fellow industrialists and businesspeople."
Nihat Zeybekci, Minister of Economy: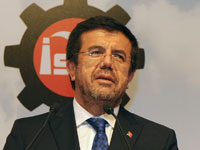 "There is a global mobilization in place to communicate Turkey to the world in the most accurate way possible. Let us not be the tellers of our story, let us speak through our actions and leave communication to our friends instead. As a friend of mine said, Turkey has become a reliable partner and a production base. I say this to all investors: 'This is your country. Using the words "Turk" and "Turkey" is your fundamental right.'"
Financing is the primary cause of our troubles. As you know, last month, ICI published its Turkey's Top 500 Industrial Enterprises survey, followed by the Second Top 500. Mr. President has expressed his displeasure of the burden of interest weighing down on our manufacturers. We should focus on this problem, leaving anything else aside. As the head of the economy, we will make sure to support and ensure the sustainability of the new competition of interest rates to emerge among the banks in the upcoming period. We will leave no avenue unexplored to improve our trade. We will meet with the companies. The state will provide whatever is needed, whether it is ports, roads, or else. Whatever your needs, we will be here to talk about them."
Faruk Özlü, Minister of Science, Industry and Technology: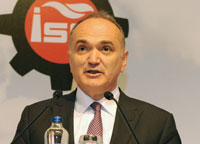 "We hope to sustain our efforts for reform that we initiated before the coup attempt. There are two key points regulating the business and environment: the economy, and democracy. It is clear that the upcoming period will see a better and faster process in terms of economy and democracy. Today, Turkey is one of the world's key production bases. We are willing to make Turkey a center of high-tech as well. We can increase our income only as much as we can developm in these areas.
We put into force R&D incentives and included design in the law's scope. We will enhance the investment environment further with a production reforms package that we are currently working on. For instance, we formed a working group to restructure TÜBİTAK (The Scientific and Technological Research Council of Turkey). We will enable TÜBİTAK support the real economy in a more effective way. Likewise, we continue working towards the Fourth Industry. We are developing models and mechanisms for technologies such as artificial intelligence and automation. We will continue to pave the way for investors. I kindly ask you to move your investment plans to earlier dates."
Mehdi Eker, Vice Chairman and Istanbul PM of AKP (Justice and Development Party):
"Turkey has upheld democracy, human rights, and will of nation: which form the basis of the rule of law, and rose up against the coup. Are these not the founding values of the EU? Are these not the very ideas and philosophy that spread from Europe to the world? So how come that Turkey's struggle for democracy, human rights, and rule of law is so misunderstood? This is what we see when we look at the media, and the statements by European politicians. We need to remove this misinformation. I extend my gratitude to Mr. Erdal Bahçıvan and ICI. It is very meaningful and valuable to see representatives of Turkey's largest companies, united in a declaration of will."