Problems in Plastics Industry Discussed at Seminar in Odakule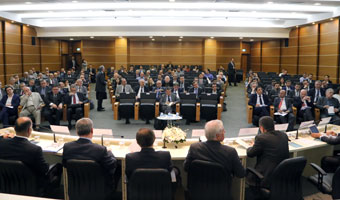 The seminar entitled "Current Developments in Plastics Industry" brought together plastics industry stakeholders within Istanbul Chamber of Industry (ICI) at Odakule. The problems in the industry and solution proposals were discussed at the meeting attended by representatives from the sector and non-governmental organizations as well as bureaucrats from related ministries. A broad participation was observed at the seminar which hosted around 120 guests. Also discussed at the event were legislative issues and many other topics of importance for the future of the industry, including chiefly foreign dependence in raw materials.
ICI Board Member Nahit Kemalbay moderated the seminar. Speakers included ICI Assembly Member Mustafa Tacir, ICI Assembly Member Ömer Karadeniz, Chairman of the Board of Istanbul Chemicals and Chemical Products Exporters' Association (İKMİB) Murat Akyüz, Deputy Director General for Customs under Ministry of Customs and Trade Mustafa Gümüş, Deputy Director General for Product Safety and Inspection under Ministry of Economy Ahmet Karabay; Recep Aslan, Department Head of Chemical Products and Exports of the General Directorate of Export under Ministry of Economy; Department Head of Imports of Ministry of Economy Ayşegül Atay and Ahmet Can, Head of the sGeneral Directorate of Industry under Ministry of Science, Industry and Technology.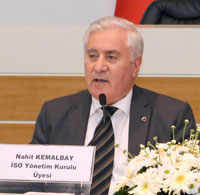 ICI Board Member Nahit Kemalbay made the opening speech at the event during which he referred to the importance of the plastics sector that ranked second in Europe and seventh in the world with more than 250 thousand employees. Kemalbay stated that the seminar would present an opportunity to communicate ministry officials their views on how to reach the goals set for 2023.
ICI Assembly Member Mustafa Tacir also took the floor at the seminar. His remarks were as follows: "We have legislative issues. Considering how sizeable the market is, we have to ask why foreign manufacturers do not pay attention to Turkey. Plastics industry has developed immensely in neighboring regions. Although we are in close proximity to petroleum reserves, we are not making good use of this geo-economic advantage."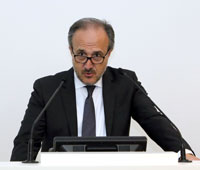 Mustafa Tacir stated that plastic is an infinitely recyclable material which therefore makes it strategically important. He added: "We have to pave the way for companies to produce more in Turkey. There is a shortage of transit ports in the country. Additionally, port services need to be standardized. Different prices are applied in each port."
Mustafa Tacir noted that unless plastics is used, the use of replacement products will multiply by 3.6, replacement energy by 2.2 and replacement carbon emissions by 2.7. He underscored that an increased use of plastics saves world resources and referred to the compatibility of plastics industry with EU legislation. Tacir added that decisions in the plastics industry were put into practice without consulting representatives of the industry and called for a stronger communication between public officials and industrialists.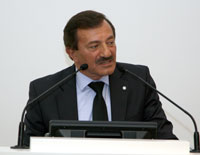 ICI Assembly Member Ömer Karadeniz referred to plastics as the material of the century which facilitates life in many areas including health and transportation. He drew attention to the foreign trade surplus of plastic products in Turkey amounting 1.8 billion dollars, with a foreign trade deficit of nearly ten billion dollars in raw plastic materials. Karadeniz noted how these figures demonstrated Turkey's dependence on raw material imports. His remarks were as follows: "Turkey's goals for 2023 include increasing export per kilogram from around 1.5 dollars to 3 dollars. Turkish plastics industry has surpassed this figure in 2014, which means that the industry has attained the 2023 goal in this area."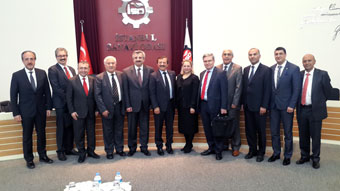 Karadeniz stated that in the past few years chemical industry, which includes plastics industry, has been sharing the third spot in exports along with automotive and textile industries. He added: "Plastics industry has increased exports in recent years. Each industry has a goal ahead of them for 2023. The obstacles industrialists face on their way to reach these goals should be immediately eliminated by related authorities, with efforts to reward rather than punish exports."
Ömer Karadeniz also touched upon the problems of the plastics industry: "The additional Article 117 to special terms for inward processing authorization certificate poses yet another impediment to rather than improve exports performance of the plastics industry which has the biggest export share within the chemical sector. This newly added article should be removed."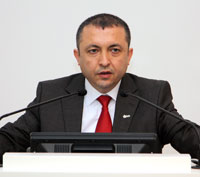 Remarks by Chairman of the Board of İKMİB Murat Akyüz were as follows "Turkey's largest export markets are Iraq, Germany and Azerbaijan, among which we pay special attention to Germany. We have an export volume of 365 million dollars with Germany which has increased its industry investments in Turkey. The largest manufacturer of the industry is Saudi Arabia, creating unfair competition with its raw material resources. Furthermore, shale gas production in the USA has also started to draw investments to the industry." Akyüz mentioned low profitability of material production in Turkey and added: "In the coming decade, giants in profitability will grow into bigger giants and dwarfs will shrink into smaller dwarfs, which therefore makes it crucial to invest in resources. Countries competing abroad need modernization and advanced production. We are facing a deadly competition. The industry works in direct proportion to raw material and petroleum prices, with high petroleum prices reducing profitability of production. This is the reason why production is diminishing in Turkey."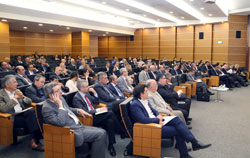 The speeches were followed by a question and answer session entitled "Problems in the Industry and Current Problems". Officials from Ministries of Economy, Customs and Industry listened to the problems of industrialists and exchanged opinions with a focus on solutions. The major topics discussed in the meeting included chiefly the Communiqué on Product Safety and Inspection published by the Ministry of Economy on February 17 and March 4, 2015, which has reportedly created negative consequences for raw material imports as well as legislative and implementation problems experienced by the plastics industry, including those caused by the addition of article 117 to the special terms for inward processing regime. In response to the statement of problems, ministry officials noted that they were on the side of industrialists.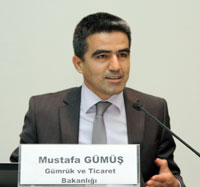 Mustafa Gümüş, Deputy Director General for Customs under the Ministry of Customs and Trade shared the justification behind the circular effective as of December 5, 2014: "Referring to the hotline has become too costly, hence a circular was drafted to eliminate these costs. Rest assured that the penalties referred to in the circular shall be applied. Furthermore, discharge and storage fees in ports as well as the operators are free of VAT charges. The importers are liable to a tax base according to VAT law."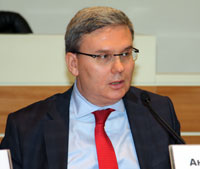 Ekonomi Bakanlığı, Ürün Güvenliği
ve Denetimi Genel Müdür Yardımcısı
Ahmet Karabay
Following were the remarks by Ahmet Karabay, Deputy Director General for Product Safety and Inspection of Ministry of Economy: "For almost two decades, we have been introducing amendments every year, sometimes in view of the general requirements by the economy and industry. One such amendment is the Communiqué on Inspection of Controlled Imports to Protect the Environment, which is of particular interest to the plastics industry today. Accordingly, Ministry of Environment and Urban Planning decides whether a product or material poses an environmental threat. The decisions are made in view of international covenants."
Recep Aslan, Department Head of Chemical Products and Exports of the General Directorate of Export under Ministry of Economy gave information on the Chemical Industry and Inward Processing Regime (DİR). Aslan stated that the inward processing regime has been conducive to an export rate of 46% and import rate of approximately 13%. Aslan referred to the reasons for the implementation of DİR which included lack of raw materials, low competitiveness, low production, lack of advanced technology, low R&D activities, and investments by multinationals in Turkey. Aslan underlined the fact that DİR was not the reason but the result of import-based production.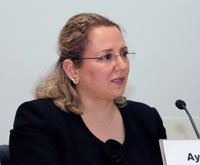 Department Head of Imports of Ministry of Economy Ayşegül Atay gave information on the raw material and product imports, suspension system and trade defense instruments. In reference to the export regime for 2015, Atay mentioned demands for the reduction and increase of customs duties for many products including plastic products. She added that in accordance with Customs Union implementations, it was impossible to introduce customs duty reductions independently from the EU.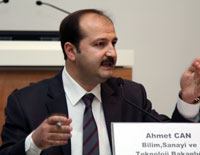 Ahmet Can, Head of the General Directorate of Industry under Ministry of Science, Industry and Technology answered a question on capacity limit: "Legislation is not God-given. If there are imperfections, it may be amended; which may not be satisfactory but it nevertheless offers solutions. Ministry of Science and Industry has not changed the category of N1 type vehicles to N2. The problem will be solved by an amendment in traffic regulations that will allow inner city transportation of N2 type vehicles, including those under the Directorate of Transport Coordination. The related authority is the Ministry of the Interior."