Saudi Businessmen With Investment Intentions in Turkey Pay Visit to ICI Board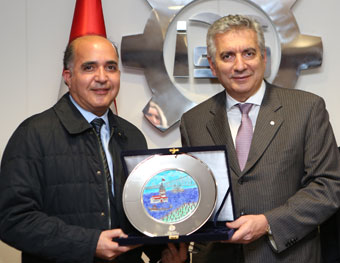 The delegation of businessmen operating in various industries in Saudi Arabia paid a visit to the Board of Istanbul Chamber of Industry.
The delegation was received by the ICI Chairman Erdal Bahçıvan together with Board Members Ali Ulvi Orhan (Sayman), Bekir Yelken and M. Ata Ceylan and obtained information from ICI board on investment possibilities in Turkey.
During the reception, ICI Chairman expressed their deep contentment in welcoming representatives of a friendly and brotherly nation, giving detailed information on the chamber to the Saudi businessmen.
As part of information shared with the delegation, Bahçıvan mentioned ICI as the first chamber of industry founded in Turkey, the size of added value in Turkish industry created by its members, production activities in nearly fifty sectors and exports to almost every country in the world. Bahçıvan expressed their willingness to provide support to the delegation as members of such a chamber.
Saudi businessmen stated their intention to invest in Turkey and their desire to be informed on the incentive system as regards investments.
The delegation showed deep interest in company acquisitions as well, adding that they found Turkish machines of good quality but expected support from Turkish companies in financial insurance, just as German machinery manufacturers.
ICI Chairman Erdal Bahçıvan responded to related questions as follows:
 "In addition to being successful in traditional markets, ICI members have in recent years have performed brilliantly in penetrating into new markets. As a friend and leader of the Middle East, Saudi Arabia in particular is a major market and a target country for Turkey. However, current figures show very poor level of foreign trade between two countries. Such visits and cooperation should be carried out today with an eye to planting the seeds for a process in which these figures will grow much higher..."
Bahçıvan gave the following information to Saudi Arabian businessmen especially interested in incentives in Turkey:
 "Turkey gives considerable amount of incentives to investors in Turkey. Even though incentives are divided into six regions, certain investments in Istanbul benefit from incentives for Regions 3 and 4 considering their sectors and the added value they create. Furthermore, there are substantial amount of incentives for cities that are only a few hours drive from the biggest market that is Istanbul."
Following the first stage of the visit, ICI Board requested from the delegation a list of companies with intentions to invest in Turkey and their areas of business.
As a second initiative, ICI Board stated that upon the delivery of a list of companies interested in importing and distributing Turkish products in the Middle East, the Board would be making effort to transfer their demands to suitable business partners.
Alongside Nuri Yurt who prepared the program for the Saudi businessmen in Turkey; the delegation included Abdullah Salem Hassan Alamarı, Ahmed Ali Almarbae, Ahmed M O Basodan, Ahmed Tariq Murad, Basil Al Ghalayini, Farah Massarini, Maya Khatib and Omar Nasser Mukharesh.
Name of participant
Title
Name of Company/ Corporation
Sector
Nuri Yurt
Businessman
TOKA LLC
Fashion and beauty sector
Abdullah Salem Hassan Alamarı
Chairman of the Board of Directors
Salem Hassan Alamari Sons Co.
Jewelry sector
Ahmed Ali Almarbae
Chairman
Saudi Modern Packaging Co. Ltd
Ali Almarbae Holding Co., Ltd
Packaging/ printing sector
Ahmed M O Basodan
Chairman of the Board of Directors
International Investors Company Ltd
Petroleum and gas sector
Ahmed Tariq Murad
Vice Chairman
Saudi United Fertilizers Co
Fertilizer industry
Basil Al Ghalayini
Chairman of the Board of Directors and CEO
BMG Financial Group
Finance
Farah Massarini
Coordinator
BMG Financial Group
Finance
Maya Khatib
President of Counseling and Research Department
BMG Financial Group
Finance
Omar Nasser Mukharesh
Businessman
Mukharesh Consultancy LLC,
Arlington Virginia
Finance
Ali Alghamdi
Businessman
Petroleum Chemistry
Zuhair Ali Alghamdi
Businessman
Kitchenware Manufacturer
Abdullah Basurrah
Businessman
Trade