Technological and Scientific Developments Discussed at ICI Assembly Meeting in January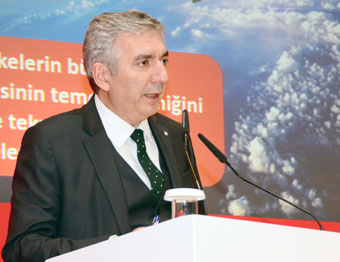 The ordinary Assembly Meeting of Istanbul Chamber of Industry (ICI) in January was held on January 25, 2017 at ISOV (ICI Foundation) Vocational Training Complex under the main theme "Outlook on Economic, Technological and Scientific Developments from Around the World and from Turkey." The meeting chaired by ICI Vice-President of Assembly Hasan Büyükdede hosted Dr. Şeref Oğuz, Economics Editor at Sabah Newspaper, who made a presentation on the agenda of the meeting. Oğuz referred to the young population and entrepreneurship potential of Turkey and added "Our entrepreneurial spirit and fast decision-making skills will be our greatest advantage in the coming term so long as we seize this potential."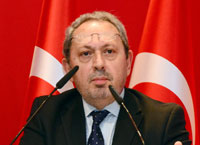 During his opening speech at the ordinary meeting of Istanbul Chamber of Industry, Chairman Erdal Bahçıvan noted that development criteria around the globe were no longer determined by exports, manufacturing or employment but by the amount of qualified technological production and investment.
ICI Chairman Erdal Bahçıvan added the following: "The new age of production will be marked by talented employees offering products and services in various global markets as well as companies benefiting from smart machines. We industrialists are obliged to show a better understanding of the zeitgeist, global trends and developments as well as the nature of production and economy today and tomorrow. We need to improve ourselves by following developments with a proactive approach."
ICI Chairman Bahçıvan also added in his remarks: "We at ICI make a point of taking part in the solution on Turkey's goal to become a strong industrial country. To serve that end, we presented the government with visionary propositions. We are so happy to see how our propositions are brought to life one after the other."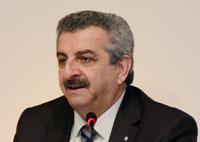 Hasan Büyükdede, ICI Vice-President of Assembly, opened the January Assembly Meeting of Istanbul Chamber of Industry. The speech by Büyükdede included the following, "ISOV Vocational Training Complex is the venue of our monthly meeting today. Our Assembly Members hence seized the chance to visit the school one more time. We have had hundreds of students receive vocational and technical training so far. In the coming term, our school will earn a new status. Following the lead of our brothers who founded these schools in the past; we, flag-bearers of our day, must leave successful educational institutions to the future."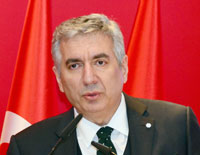 ICI Vice-President of Assembly Büyükdede called Erdal Bahçıvan, ICI Chairman of the Board of Directors, to present his speech on the main agenda of the meeting. Bahçıvan referred to the constantly increasing gap between technology-producing societies and those that use technology produced by others. Underlining the growing challenge of compensating for the technology deficit, Bahçıvan emphasized the main power technology-producing societies rely on: Human resource equipped with the power of scientific knowledge, namely intellectual capital. Bahçıvan added that only an educated brainpower can design technological innovations that are products of a creative mind. He also noted that societies capable of attracting this qualified human resource and integrate in the economy will be groundbreakers in the new generation industry of the world economy.
Bahçıvan continued his remarks as follows: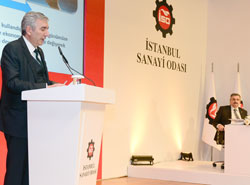 "The new age of production will be marked by companies with a swift, widespread network capable of using intellectual work, following up and practicing technological developments, channeling knowledge and experience to solve real-life problems, benefiting from talented employees and smart machines offering products and services to various global markets."
Bahçıvan stated the need for Turkey to adopt the new generation industry approach still underway and to prepare for a transformation towards that end. Bahçıvan added: "The question we must ask ourselves is: What are we doing to prepare ourselves for the new era in industry? What steps are we taking?"
Bahçıvan reminded the first step taken in 2016 by the Ministry of Science, Industry and Technology with the drafting and adoption of the "R&D Reform Package" to which ICI contributed with suggestions and propositions. He stated that the R&D legislation introduced a variety of changes with a view to transforming the manufacturing industry based on innovative and high-technology sectors, consolidating our entrepreneurial capacity and laying the groundwork for qualified employment.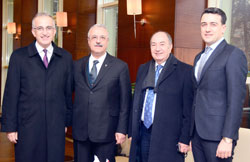 Chairman Bahçıvan referred to another significant initiative taken in early January, namely the publication of the Industrial Property Law in the Official Gazette and the adoption thereof. He said that he considered the law a considerable effort in the protection of intellectual property rights in Turkey in compliance with international norms.
His speech continued as follows:
"Turkey gets the measure of the basics of the big picture in global economic, technological and scientific developments and does it right. Developments in science and technology in recent years are a positive turn of events. I believe that new steps will advance Turkey even further. In this age of change, we industrialists are trying to better understand the zeitgeist, global trends and developments and the quality of production and economy today and tomorrow, which is a must for us. I would like to emphasize that we need to improve ourselves by following the developments in a proactive approach."
Bahçıvan detailed ICI's visionary projects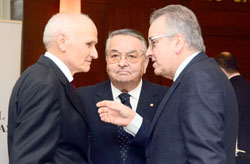 ICI Chairman Erdal Bahçıvan also detailed ICI's visionary projects and their impact in 2016 to Members of the Assembly, adding that ICI carried out activities and projects with a long-term vision for a wider industry, pursuing Turkey's goal of becoming a strong industrial country. Bahçıvan stated that ICI always laid emphasis on being a part of the solution, at times presenting the government with visionary propositions to serve that purpose.
Bahçıvan pointed out their demand to make Eximbank loans available without a letter of guarantee for companies engaged in exporting on a stable basis. According to decisions by Economy Coordination Board, letters of guarantee for Türk Eximbank loans provided by banks will now be issued by Credit Guarantee Fund.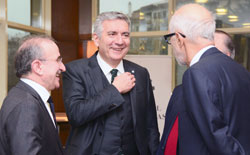 Bahçıvan added their request for a solution to the surety problem companies face in securing loans and the prospective solution by Credit Guarantee Fund for which ICI took the most important, tangible step by providing financial aid. To serve that end, "Breath Credit" campaign was launched in 2016.
Bahçıvan also referred to another proposition, namely the need for a New Generation Development Bank with efforts by the government to restructure the current Development Bank.
He added: "We demanded support for the private sector for new, large-scale investments. We included this proposition in the Medium-Term Program for 2017-2019 and the Budget for 2017. Turkey Wealth Fund Law was enacted on August, 26 in 2016 with a publication in the Official Gazette."
Bahçıvan's speech continued as follows:
"We proposed a new, customized and company and project-based incentive model seeking to fulfill the needs of given companies rather than offering fixed, regional incentives. Following our proposition, a Cabinet Decree was issued on a project-based incentive system with a publication in the Official Gazette on November 22, 2016."
Bahçıvan added their comment on the length of prescription period enshrined in law for unpaid wages and severance and notice pays and how the ICI demanded a limitation of the period to two years. Bahçıvan stated that the draft Labor Courts Law plans to reduce the prescription period in non-salary payments such as severance and vacation payments from five to two years.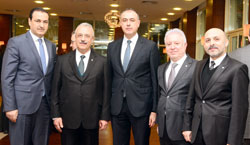 Bahçıvan said: "We suggested that Courts of Appeal work as an effective and efficient mechanism that cuts down the judicial process. Courts of Appeal have been effective since July 20, 2016. In an effort to boost women's employment, we suggested a financial social program for the elderly in families who look after children. The Ministry of Labor and Social Security launched preparations and activities with a focus on a pilot scheme for this project. Many other visionary suggestions we offer are becoming a reality. You can find them in the annual report for 2016 you received today. In 2017, we will continue to work with the same ambition and determination for a bright future for our industry and industrialists."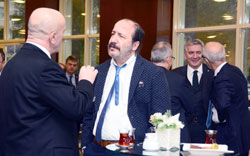 Following ICI Chairman Erdal Bahçıvan, Dr. Şeref Oğuz, Economics Editor at Sabah Newspaper, presented his speech on the agenda of the meeting. Oğuz opened his remarks with an emphasis on the numerous opportunities by Industry 4.0. He defined the new age as "intelligence economy" adding that Turkey reached a certain level in industrialization. He also stated the misconception in Turkey about equipment and machinery as problem-solvers while spending in education and mentality remained low. Oğuz underlined that Industry 4.0 needed dynamics living up to our mind and quick wit, and our entrepreneurial spirit and fast decision-making skills offered us an advantage.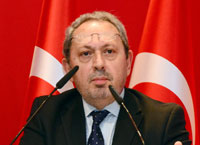 Oğuz said, "Intelligence economy replaces machine power with intelligence. Every agency needs to know and find their intelligence and talent. Industrialists of the future will be the discoverers of intelligence and talent, the capital of Industry 4.0. We must be rule-makers rather than obey rules already set. The intelligent and the talented in Turkey have a hard time indeed. They need to surmount four different obstacles: Disregard, mockery, fight and acceptance. Unfortunately, only 2% of the intelligent and talented in Turkey reach this final stage."
Mr. Oğuz underscored how Turkey failed to clear the path for intelligent and talented people: "We don't have the competence to discover intelligence. How can you expect a KPSS (Public Personnel Selection Exam) mindset to discover talent?" Oğuz added: "A generation focused solely on multiple-choice questions cannot create from scratch. Many businesses today are invaded by their very own human resources." Oğuz listed technologies that will shape the future: Internet of things, nanotechnology, biotechnology, individual production instead of serial production, robot labor, space technologies, mechatronics, cybernetics and energy.
Following his speech, Şeref Oğuz responded to questions by ICI Assembly Members.