The ICI Assembly Presidency Council and Board of Directors at Teknopark, Istanbul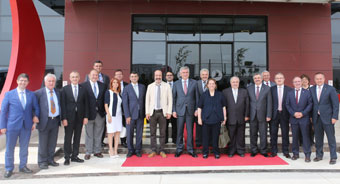 The managements of the Association of Defense, Aviation and Space Groups (SAHA İstanbul) and Teknopark Istanbul hosted the ICI Assembly Presidency Council and Board of Directors at Teknopark İstanbul, located at Pendik-Kurtköy. Led by Istanbul Chamber of Industry (ICI) Board President Erdal Bahçıvan, the delegation included ICI Assembly President Zeynep Bodur Okyay, SAHA İstanbul Chairman of the Board Hasan Büyükdede (also ICI Assembly Vice-President), ICI Assembly Presidency Council Member-Secretary Serdar Urfalılar, ICI Vice-Presidents Adnan Dalgakıran and İrfan Özhamaratlı, ICI Board Members Nahit Kemalbay, Ali Eren, Sultan Tepe, Sadık Ayhan Saruhan and M. Ata Ceylan.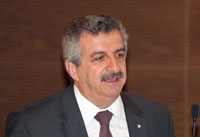 SAHA İstanbul Chairman of the Board Hasan Büyükdede informed the participants about the process of SAHA İstanbul's establishment and why it was founded. Disclosing that Istanbul industry felt the need to be included in this system and that this was why the association was formed, Büyükdede said, "How can we convince the members of ICI here to invest? Ten percent of Teknopark is now occupied and it awaits new investors. The opportunities it presents are very favorable. We believe that ICI can take an effective place here and that industrialists can take advantage of the opportunity. The Aviation Maintenance Repair and Modification Center (HABOM) and myTECHNIC are here—these opportunities should be used. In particular, we must encourage the use of this site as a civil aviation center. We have faith that with the clustering of companies in Istanbul and its environs, the area will readily become a technology production base."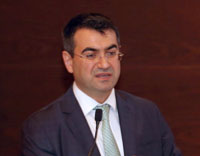 Teknopark İstanbul General Manager İsmail Arı said in his speech that Teknopark İstanbul had a long history behind it which has carried it to the present day, starting from the time when Turgut Özal and Vahit Erdem had initiated the design of an aviation base in the area.  In those years, the concept of a "Teknopark" had just emerged and its construction, Arı said, came to be recognized as one of the most prestigious development projects in Turkey and in the region.  Calling attention to the fact that the main goal of the project was to promote industry and innovation, Teknopark İstanbul General Manager Arı pointed out that Teknopark was a respected science and technology center recognized by leading centers in the international community. İsmail Arı stated that the science park was the most highly prestigious project known of its kind and appealed with all of its aspects to both local and international investors, creating an attractive business environment at high standards. Speaking of the accessibility of the facility, located at a 4-hour distance from 56 countries and representing a 10 billion dollar market encompassing 1.5 billion people, Arı said, "Our understanding of the concept is to cover the sectors that exhibit the largest current accounts deficits. The 100 companies in the energy sector will be brought up to 1000 companies that will employ a total of 30,000 personnel. We have close relations with the universities because we are a national project and we maintain relations with all institutions. Having SAHA İstanbul located here also brings us added strength."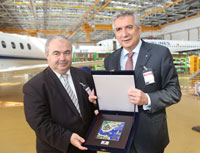 During their visit to Teknopark İstanbul, the ICI Assembly Presidency Council and Board Members also visited Turkish Technic. On the occasion, Turkish Technic Consultant to the General Manager Halil Tokel provided a detailed presentation on the effective services offered on a national and international scale.
About Teknopark İstanbul
Designed as Turkey's largest, one of Europe's third leading science parks, Teknopark İstanbul is a technology development area that aims to contribute to the technological development capacity of local and international investors in Turkey. It was founded in collaboration with its principal partners the Defense Industry Undersecretariat and the Istanbul Chamber of Industry... Teknopark İstanbul comprises one of the most prominent stages of the Advanced Technology and Industrialization Park (İTEP) project, which occupies an area of 1300 hectares that encompasses the Sabiha Gökçen International Airport. The objective of Teknopark İstanbul is to support Research and Development activities, innovation and technological production and to create an ecosystem that will trigger entrepreneurship and boost the economy.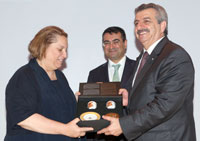 Located at Pendik-Kurtköy, Teknopark İstanbul launched its first buildings occupying 62,000 square meters as of the end of 2013. Teknopark İstanbul hosts approximately 100 companies, 30 enterprising incubator companies and 1500 R&D personnel engaged in R&D activities in the central areas of Aviation and Space, Health Sciences, the Defense Industry, Energy, Maritime Affairs, Advanced Electronics, Advanced Materials, Industrial Software; it enjoys the support of universities and the business community, for which organizations it allocates productive zones for research.
Teknopark İstanbul at the same time aims to contribute to the national innovation ecosystem by becoming an R&D and Excellence Center for critical technologies.
Teknopark İstanbul is a full member of the global organizations, the International Association of Science Parks (IASP) and the Asian Science Parks Association (ASPA).  Moreover, according to the bilateral agreements signed with science parks in Europe, North America and Asia, both science parks will offer time-limited free office space to R&D and incubator companies as well as every kind of administrative and technological infrastructure service provided by science parks, free of charge.