The New Consul General of Pakistan in Istanbul, Pasha Visits ICI Chairman Bahçıvan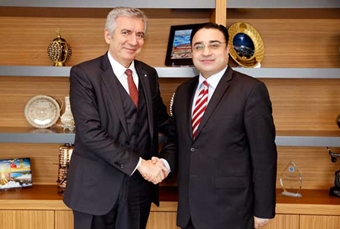 Pakistan Consul General in Istanbul, Bilal Khan Pasha paid a courtesy visit to Istanbul Chamber of Industry (ICI) Chairman Erdal Bahçıvan. During this visit to the Odakule headquarters of ICI, Pasha underlined that this is one of his first visits in Istanbul.
ICI Chairman Erdal Bahçıvan stated that there had been a pleasing increase in Turkish business world's investment to Pakistan recently and this positively impacted the views of Turkish business people regarding Pakistan, and attracted attention to a development that may unfortunately affected this current state negatively: "The recent customs regulations of Pakistan should not reverse such positive developments." said Bahçıvan.
And Consul General Bilal Khan Pasha stated that a free trade agreement should be urgently signed between these two countries. Mentioning the significant amount of import of Pakistan for iron-steel products, electronic home appliances, machinery, automotive spare parts etc., Pasha continued: "A free trade agreement between these countries will create significant opportunities for the Turkish industry and mainly these sectors."
During the visit, the importance of establishing a strong dialog between organizations for achieving the desired level of mutual economical relations was also underlined. In this sense, it was agreed to carry out joint operations to improve the economical relations and to solve the current issues between these two countries through bilateral discussions and meetings between ICI and Pakistan Consulate General in Istanbul.