Turkish Companies Invited to $8 Trillion Market on "China Country Day"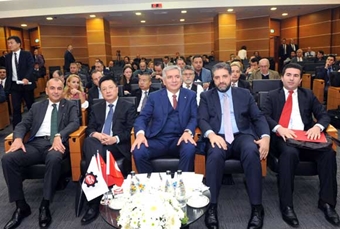 As part of its Country Days event series that open a window into different domestic markets, Istanbul Chamber of Industry (ICI) hosted China, the world's second largest economy with $11 trillion GDP and making up around 15 percent of the global economy. The "China Country Day and Opportunities for Turkey" meeting hosted by ICI Chairman Erdal Bahçıvan in Odakule saw participation of Abdülkadir Emin Önen, Chief Advisor to the President of Turkey, and Bo Qian, Consul General of the People's Republic of China in Istanbul, among several industrialists and bureaucrats. The meeting addressed the economic situation, foreign trade and market structure of China and explored the investment and business opportunities in the country.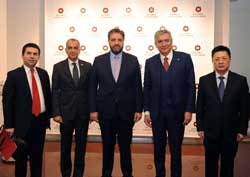 In the opening remarks, ICI Chairman Erdal Bahçıvan noted that the Chinese project One Belt, One Road launched in 2013 to revive the Silk Road has coalesced into the Middle Corridor project looking to connect Turkey and Europe to Central Asia and China through Anatolia. Bahçıvan said that the recently operationalized Baku-Tbilisi-Kars railway, a section of this new Silk Road, served as a common ground for the commercial and investment-related priorities of Turkey and China.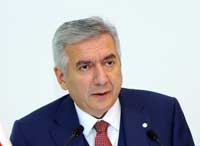 Referring primarily to the key commercial role of reviving the Silk Road, Bahçıvan stated that this would significantly reduce the time and cost of transportation of goods between China and Europe. Bahçıvan stressed that these massive infrastructure investments to shape the coming era constitute a win-win for Turkey and China, boosting economic progress, increasing the number of investments, eliminating the trade barriers, and interconnecting the markets.
Bahçıvan talked about the foreign trade data revealing that Turkey's exports to China amounted to an approximate $785 million in 2016, and imports from China neared $10 billion, which carried China to the top of the list of countries exporting to Turkey, and that the bilateral trade balance was significantly in favor of China. Bahçıvan expressed confidence in the two countries' businesspeople in contributing to balancing the bilateral trade into a healthier structure in short time.

Sharing their expectation to increase the export volume to China, which has an export potential of more than $1.5 trillion and launched the domestic consumption-based growth plans, to a satisfying level, Bahçıvan said that the efforts are underway for elimination of trade barriers, effective collaboration in customs and standards, and promotion of trade relations. Bahçıvan pointed out that given Chinese direct foreign investments of over $100 billion worldwide, in which Turkey's share is relatively inadequate.
On the goal to boost the Chinese direct foreign investment in Turkey, Bahçıvan highlighted that, apart from mutual investments, there is a great potential of joint Turco-Chinese investments in Africa and Middle East. Bahçıvan told that they strive for a stronger partnership hand in hand with bilateral investment, trade and cooperation between businesspeople of the two countries.
Bahçıvan continued his remarks:
"The 2018 Turkey Tourism Year in China might be useful to further draw the two peoples closer. We need to grasp this opportunity. Approximately 200 million Chinese tourists travel abroad every year. Last year, Turkey received around 160,000 tourists from China. We aspire to exhibit Turkey's touristic values, particularly Istanbul, to a wider audience of Chinese. We think it is necessary to overcome the obstacles to bilateral tourism and trade relations. In this regard, the visa problem stands as an urgent issue that needs to be solved by the authorities."

Abdülkadir Emin Önen, Chief Advisor to Turkish President set to take office next month as Turkish Ambassador in Beijing, said in his speech that obsolete stereotypes inherited from the 20th century govern the 21st century business and diplomacy. Önen indicated that the global economic and political weight shifted to East Asia, and businesspeople, politicians, and governments must consider this development in their plans. He said that he refuses to use the expression "Far East", and the two countries sit on the two edges of the east, with Beijing situated as far away from Istanbul by air as Washington DC.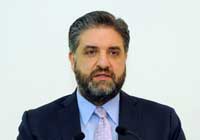 Önen noted that China's project One Belt, One Road seeks to build a modern Silk Road, a project that would not be feasible without the involvement of Turkey, and will enhance the amicable relations between the two countries. Önen also explained that the Turkish business world fails to sufficiently comprehend China as to its complex domestic structure, where it stands in the global economy, and how it contributes to innovation. Quoting Mao Zedong's saying"Have your country in your heart, and the world on your horizon", Önen stated the need for Turkish companies to adopt this principle and seize the opportunity of branding. Önen underlined that China switched from low-cost export model to domestic market-oriented production and investment model, leading therefore to a greater potential for export to China. Identifying the newly emerging middle class as the backbone of the domestic consumption, Önen indicated that there would be a demand for Turkish brand products.
Önen emphasized that Turkish producers must closely follow the economic transformation and the habits of the middle class in China, and commented that the foreign trade imbalance in favor of China cannot be solved solely via exports, but required Turkey to attract Chinese investors as well. Stating that China declared 2018 as Turkey tourism year, Önen added that China has foreign trade deficit in the service sector mostly due to tourism. Önen expressed their wish to host more Chinese tourists in Turkey, declaring the goal was to reach 1 million tourists. Stressing they are willing to step up with the number of flight destinations and flight frequency between Turkey and China, Önen indicated the need to promote Chinese-oriented tourism. Önen pointed out that Turkey needs Chinese neighborhoods, which would facilitate communication.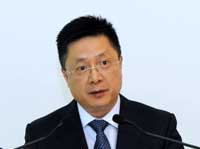 Taking the floor next was Bo Qian, Consul General of the People's Republic of China in Istanbul, who delivered a speech titled "Chinese Economy and Opportunities for Turkey". Qian briefed on the One Belt, One Road project launched in 2013, likened to a new Silk Road. Remarking the Silk Road's traditional role as a road of peace and civilization, Qian added that a total of $60 billion was invested in this project over the past four years.
Speaking of the decisions adopted at the recent 19th Chinese communist party congress, Qian pointed out that these quinquennial congresses set long-term strategies for China. Qian informed that China has 50 million people living at the poverty threshold, and their goal was to smash this figure down until 2020. He added that their intention was to make a modern and developed country of China by 2049.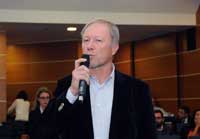 Qian said that he occasionally meets with the young people of Turkey and advises them to learn the Chinese language and familiarize themselves with the Chinese culture. "China will import over $8 trillion worth goods over the next five years. Foreign investments will reach beyond $750 billion. These figures will produce an enormous potential with Turkey, amongst others. Turkey is a big country, so are the Turkish people. We should make right decisions. Currently, we are on the same boat with our Turkish fellows, and we are happy to be aboard. Missing this boat would mean losing 20 to 30 years," remarked Qian.
Qian affirmed that bilateral commercial and economic relations were very important, but the contact between the peoples weighed more. His words were: "The two countries trust one another politically. Improvement of economic and commercial relations, on the other hand, calls for the contact between the peoples, a mutual understanding. All is sorted out if we trust each other. No achievement is beyond reach if the two countries collaborate".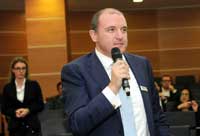 Hasan Köse, representative of the Turkish Ministry of Economy as well as Turkey's former Commercial Attache to Guangzhou, delivered a presentation on the Cooperation and Investment Opportunities in the Chinese Market. Köse said that the business people in the manufacturing industry have no other choice but pay attention to China and follow the developments there, and Turkey has a considerable foreign trade deficit with China because of its capacity to produce almost anything. Köse informed that China shifts to developing technology-intensive policies, starting to pull out of the environmentally hazardous sectors. Highlighting the rise of production and operation costs in China, Köse designated sectoral clustering and the economy of scale as the country's two greatest accomplishments. Köse listed the reasons why Turkish companies fail to fulfill the potential in exporting to China, namely as competition in similar sectors, inability to produce Chinese import items, ignoring China as a market, and the strong regional commercial ties in Southeastern Asia - Pacific.
The event continued with a panel on Turkish Companies' Experiences in the Chinese Market. The panel moderated by Haktan Akın, ICI Deputy Secretary General, had in attendance Talip Murat Kolbaşı, Head of Turkey-China Business Council at Foreign Economic Relations Board of Turkey (DEİK) and President of Arzum Electrical Appliances; Doğan Sarıgül, Vice President of Aksa Power Generation; Chen Yubao, Assistant General Manager at Industrial and Commercial Bank of China; and Huang Songfeng, Trade Consul of People's Republic of China in Istanbul sharing their experience and knowledge on investment occasions in China. The panel was followed by a Q&A session with speakers. After the meeting, Chinese Consul General Bo Qian, and the delegation met with ICI Board Members at a lunch reception to exchange opinions.