Turkish-Arab Business Chamber Established with a Protocol between TOBB and the Union of Arab Chambers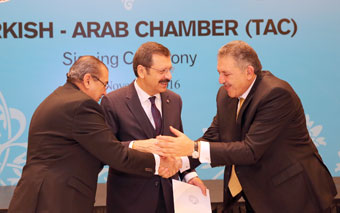 The Turkish-Arab Chamber, headquartered in Istanbul, was established with the protocol between TOBB (the Union of Chambers and Commodity Exchanges of Turkey) and the Union of Arab Chambers. The signing ceremony, which was held at Swissotel, was attended by Erdal Bahçıvan, Chairman of the Istanbul Chamber of Industry (ICI), as well as the representatives from the industry and trade chambers from various regions of Turkey.
TOBB Chairman M. Rifat Hisarcıklıoğlu delivered a speech at the signing ceremony of the protocol. Remarking that TOBB and the Union of Arabic Chambers, an umbrella organization formed by the private sector of the Arab League member states, took a historic step in partnership, Hisarcıklıoğlu said: "Our economic relations with the Arab world have significantly improved in the recent years. Since the beginning of the 2000s, within the last 15 years, the volume of trade between Arabian countries and Turkey increased seven-and-a-half-fold. Our trade volume with the Arab world reached 47 billion dollars. Such an increase within 15 years is an amazing result."
Hisarcıklıoğlu expressed that the Turkish private sector would like to do more business with the Arab world and is very enthusiastic about this matter, and emphasized that there is great potential ahead for them. He added: "The Arab League countries have only 8% share in Turkey's total international trade, while Turkey has a share of only 1% in the Arab League's trade. So, there is a great potential for us to do and develop business together. We are setting up a Turkish-Arab Chamber in order to bring this potential into life."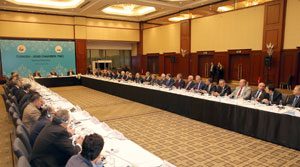 Senator Nael Al Kabariti, President of the Union of Arab Chambers and Jordan Chamber of Commerce called for a joint investment between Turkey and Arab states, and said: "We are here to represent the Turkish and Arabic private sectors. We must find common points between the Arab countries and Turkey and make co-investments that will increase employment. There is a serious unemployment problem in Arab countries. We have to start projects that will increase employment on both sides as soon as possible. We should increase employment. This will increase the sociocultural development of both Turkey and the Arab countries. I believe we can exceed the European Union's trade figures."
Ahmed Al Wakeel, President of Federation of Egyptian Chambers of Commerce and Union of African Chamber of Commerce, Industry, Agriculture and Professions, noted that a very important step in the Turkish and Arab relations was taken. He continued: "Today, investments and economic steps will accelerate the cultural and social development."
Dr. Mikhled Al Omari, General Secretary of Jordan Investment Support Agency stated that they are open to construction investments and called for Turkish business people to make construction investments in Jordan.