Unconventional Advice from Bahçıvan: Universities Should Be Separated into Two Classes as "Research and Education"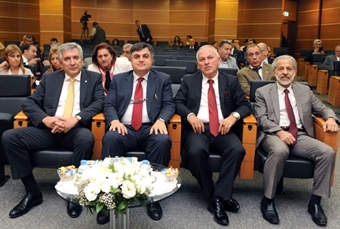 Istanbul Chamber of Industry (ICI) Assembly held its September meeting with "A New Look on University-Industry Partnership as Production Economics Take on a New Significance" as the main agenda item. ICI Chairman Erdal Bahçıvan delivered the opening speech of the meeting, where the Council of Higher Education (YÖK) President Prof. Gökhan Çetinsaya also attended as a guest speaker. ICI Chairman Bahçıvan remarked that Turkey needed its "Ivy League", saying: "As in many other countries, Turkey should also separate research and education universities. Countries that adopt such a path gain a competitive advantage."
September's Assembly meeting brought together representatives from the industry and universities. ICI Chairman Erdal Bahçıvan began his opening speech by congratulating everyone involved in the successful effort to secure the release of the Turkish embassy personnel, who were held hostage after being kidnapped in Mosul 101 days ago. In his speech, Bahçıvan noted that the economic competition in the world was ever more formidable, and that tough times were ahead of countries where the quality of education is relatively low, knowledge base and R&D capacity are weak and innovation and design capabilities are inadequate. Bahçıvan said that USA had allocated $465 billion for R&D this year, followed by $284 billion by China, $165 billion by Japan, $92 billion by Germany and $63 billion by South Korea. "Turkey has joined this global race with $11 billion in R&D spending. As the figures show, we are not placing enough emphasis on R&D," Bahçıvan noted.
An Industry-Based Economic Development Model Required
Bahçıvan noted that Turkey ranked 45th among 144 countries on the Global Competitiveness Report 2014-2015, adding: "Turkey ranked 59th in availability of scientists and engineers, 64th in quality of scientific research institutions, and 61st in university-industry collaboration in R&D. Therefore, as production economics regain significance in today's highly competitive environment, a globally competitive Turkey requires industry oriented economic development model. A high-tech, efficient, environmentally friendly, safe and sustainable industrial production with high added-value that reduces dependence on foreign resources is a must for such a model."
Result Oriented Collaboration Needed
Bahçıvan talked about the importance of sustainable growth and development on production and economy in the Information Age, adding: "Accordingly, university-industry collaboration also takes on a new meaning. In this context, our universities, academic institutes and research centers have a great responsibility. No one foresees that universities will maintain their current, conventional status, as there is an even greater need for result oriented collaboration between universities and the industry."
Bahçıvan emphasized the National Science Foundation, established in the US in 1950, as the first example of university-industry collaboration in the world, and cited the following examples of results achieved by various countries in this field: "Warvick Science Park in the UK provides education for over four-thousand post-graduate and PHd students, who are employed in various companies. 1400 companies with 32 thousand employees operate in Nice Sophia Antipolis Science Park in France. In Germany 67 institutes, with 23 thousand employees, constitute the Fraunhofer Society, which has a budget of 1.7 billion Euros. Japan has a full time army of 655 thousand R&D personnel, majority employed by the private sector, working with more than 800 higher education institutions."
A New Website to Unite Universities and Industry
Bahçıvan pointed out the positive results achieved by countries that invested in university-industry collaboration in the past and added: "There are 37 US, 28 EU and 22 Japanese companies in the list of Top 100 R&D investors. It is no coincidence that 25 of the countries in that list doubled their profits in a single decade. Turkey needs its "Ivy League" now. Countries that take this step succeed in developing their best universities even further, ensuring increased competitiveness in the global arena. We also see research and education focused universities being separated. The Technology Transfer Offices, Technology Development Zones as well as Organized Industrial Zones will play an active role in building closer university-industry collaboration vis-a-vis innovation."
Bahçıvan added that ICI would take the first important steps in this regard together with Istanbul University, Boğaziçi University, Istanbul Technical University, Yıldız Technical University and Marmara University, and also mentioned their plans to set up a website that will unite the R&D project needs of the industry with the solutions provided by the Technology Transfer Offices.