Warm Welcome in Tehran for ICI Assembly Delegation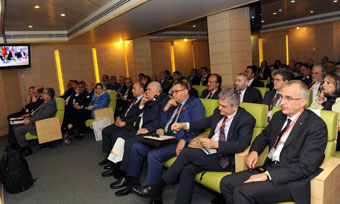 In the first international delegation of its history, Istanbul Chamber of Industry (ICI) visited Iran. On their visit to Iran's capital Tehran in order to explore the bilateral cooperation opportunities, ICI Chairman Erdal Bahçıvan, accompanied by a delegation of 70, met with Iranian Minister of Science, and Minister of Industry in a private meeting. During the visit, Turkish companies held over 400 bilateral talks with more than 200 Iranian firms.
The first stop of the trip held by Istanbul Chamber of Industry (ICI) delegation with close to 70 industrialists, was the Turkish Embassy in Tehran. On the evening of April 29, a reception was hosted by Tehran Ambassador Rıza Hakan Tekin in honor of the ICI delegation at the Tehran Embassy residence, which is the largest Turkish land outside the country. During the cordial atmosphere at the reception, Ambassador Tekin delivered a speech in which he noted that, since the lifting of the embargo against Iran, delegations from all over the world had been flooding into the country, whereas Turkey, which had supported Iran during the sanctions, had not visited Iran yet. Tekin said that the visits held over the last two months changed this course and added that ICI would make every effort to support Turkish business people's initiatives in Iran.

ICI delegation held their first official visit on the next day to Tehran Chamber of Commerce, Industries, Mines and Agriculture. Hosted by Masoud Khansari, Chairman of the Tehran Chamber of Commerce, Industries, Mines and Agriculture, the meeting focused on the investment opportunities in Iran.
In addition to Zeynep Bodur Okyay, ICI President of Assembly, and Erdal Bahçıvan, ICI Chairman, the ICI delegation included ICI Vice President of Assembly Hasan Büyükdede, ICI Deputy Chairman İrfan Özhamaratlı, ICI Board Members Ali Ulvi Orhan (Bookkeeper), Nahit Kemalbay, Sultan Tepe, Ali Eren, Sadık Ayhan Saruhan, Bekir Yelken, M. Ata Ceylan, Nurhan Kaya, ICI Secretary Member Serdar Urfalılar, and ICI Honorary Members of Assembly Ali Coşkun, Memduh Hacıoğlu, Oktay Duran, and numerous assembly members. The delegation held the first official meeting with Tehranese industrialists and business people at the Tehran Chamber of Commerce, Industries, Mines and Agriculture. Turkish industrialists then held bilateral meetings with their Iranian counterparts during which they discussed potential venues for investment and cooperation.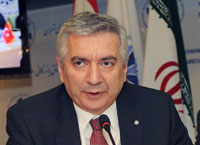 During the joint meeting held at Tehran Chamber of Commerce, Industries, Mines and Agriculture, ICI Chairman Erdal Bahçıvan expressed gratitude to his Iranian peers for their amicable hospitality. Referring to Iran's large economic potential gaining popularity across the globe upon the recent lifting of the embargoes, Bahçıvan noted that this global interest in Iran brought about several visits and undertakings, yet what matters was not an inflation in visits and promises, but accomplishment of results. Bahçıvan also expressed their sincere wish to have fruitful, result-oriented and efficient meetings that would deliver tangible outcomes.
The meeting was opened by Mohammad Reza Bakhtiari, Vice President for International Affairs at Tehran Chamber of Commerce, Industries, Mines and Agriculture, who also moderated the meeting. Bakhtiari said that the ICI delegation was one of the largest delegations coming from Turkey. Speaking on the key nature of bilateral relations with Turkey, Bakhtiari added that although it was impossible to find two like-minded people, relations could be built upon many common grounds.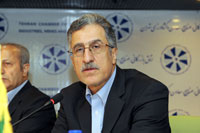 Taking the floor next, Chairman of Tehran Chamber of Commerce, Industries, Mines and Agriculture Masoud Khansari reminded that Turkey was on Iran's side during international sanctions. Pointing out that business people from two countries are well aware of their potential, Khansari said that the common culture facilitated their acquaintance. He went on to say that lifting of the embargoes made it crucial to develop their relations with Turkey, a key commercial partner whose geographical, religious and lingual similarities may further foster trade. Khansari highlighted that Turkey is successful at the petrochemistry, textile, readywear, electricity, energy and plastic sectors whose raw materials are abundant Iran. Talking about current problems regarding banking relations and customs, he expressed their determination to solve these issues by putting in their best efforts.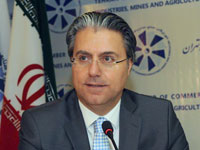 Rıza Hakan Tekin, Turkey Ambassador to Tehran, then stated that the two countries have deep-rooted relationships which help resolving the problems. He also emphasized that the said relations require care and nurture, which required the development of economic and trade relations. Pointing out that the current economic relations are nowhere near fulfilling their potential, Tekin yet added that the top-level visits paid during the past 2 months put an end to this course.
Tekin, warning about the possible complications during development of relations, suggested arbitration, also brought up at the Joint Economic Commission, as a problem-solving mechanism. Tekin conveyed that, at the top-level meetings, Hassan Rouhani, President of the Islamic Republic of Iran, had placed a particular importance to Turkey's experience and had mentioned that Iran was looking up to the dynamic private sector model in Turkey. He then reminded that Turkey stood by Iran in their dark days and added that the business world was ready to back Iran in any way possible and with any problems ahead.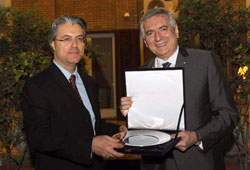 ICI Chairman Erdal Bahçıvan firstly noted that Iran represents poetry, art and literature, and quoted the renowned Persian poet Sadi Shirazi: "I have never seen anyone getting lost on the right path". Building upon this reference, he said that business people from two countries seek to establish stronger relations on the right path, based on mutual goodwill and trust.
Noting that the Istanbul Chamber of Industry Assembly paid their first ever international visit to Iran, Bahçıvan said: "The history of civilization demonstrates that some countries are not ordinary at all. We believe Iran, our host country, is among the most significant examples to this. Thus, I would like to share the excitement of being here. In our meeting back in Istanbul, I had described the real value shared by the two countries as the geographical proximity, cultural similarities, and a high level of mutual sympathy between their people. Our relations' geographical, historical, cultural and human aspects are the pillars of developing bilateral relations, our ultimate goal. Iran, cradle of ancient civilizations, was a bridge between Asia and Turkey throughout its colorful and inspiring history of centuries. Just like Turkey connecting Iran to Europe. In summary, Turkey and Iran are geographically and logistically indispensable to each other."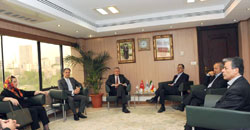 Bahçıvan stressed the Turkey-Iran border, unchanged for the past 400 years of peace since 1639, was significant not just to the two neighbors but the entire Middle East. Bahçıvan expressed his hope that the border, which persevered for centuries of peace as a symbol of stability, would set an example for and inspire all the Middle Eastern countries, which continue to witness human tragedies in constant struggles for land.
Reminding that the geography shared by Turkey and Iran corresponds to the middle segment of the Silk Road, backbone of the global trade since ancient times, Bahçıvan said that tradesmen who traveled on this road have always contributed to economic development, social well-being, and the establishment of peace. Bahçıvan described the economy as instrumental in convergence of countries and cultures, which ultimately paves the way for a long-term, lasting peace.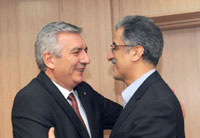 He stressed that Turkey did not wait for the embargoes to be lifted in order to show an interest and trust in Iran:
"As you know, the 'Turkey-Iran Preferential Trade Agreement' entered into force as of January 1, 2015, while negotiations on lifting the embargoes were still in progress. The agreement reduced bilateral tariffs and abolished nontariff sanctions as well as tariff-like restrictions. Turkey and Iran made mutual tariff deductions for 140 and 125 goods, respectively. Another good news was Turkish government's recent announcement that another 30 goods would be subject to deductions. Turkey-Iran trade volume reached $9.7 billion in 2015, including near $6.1 billion for Turkey's imports from Iran and $3.6 billion for exports to Iran. We are confident that it is possible to improve this trade with mutual efforts. The Turkey-Iran Preferential Trade Agreement had targeted the $35 billion trade volume between the two countries by 2020. With embargoes lifted, this has been moved to an earlier date, namely $30 to 35 billion in trade volume in 2016. In summary, Turkey-Iran Preferential Trade Agreement will take full effect properly after the abolition of sanctions."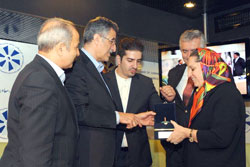 Bahçıvan raised concern over the problems occurring in the economic relations between the two countries. Stating that exporters suffer from inspections at Iranian customs, where vehicles are required to discharge due to lack of alongside transportation, risking damage to the goods. Bahçıvan called for cancellation of inspection requirement at customs and adoption of alongside transportation. He also said that Turkish vehicles are subject to discrimination and pay high tolls at customs, calling for an end to such unfair practices.
Bahçıvan also listed insufficient transportation network linking the two countries and high transportation costs as negative impacts on the trade, on top of the customs issues. He quoted Hassan Rouhani, President of Iran, when he talked about the problems concerning logistics and customs, in a "High Level Cooperation Council" meeting held in Ankara a couple of weeks ago: "We will take the necessary action with regard to transportation. We will provide incentives to the two countries' private sectors and remove the obstacles." Bahçıvan expressed their great appreciation of this statement.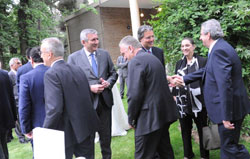 Remarking that lifting the embargoes also served the banking sector, Bahçıvan expressed their hopes that with Iran returning to the international banking system, companies would be able to transfer their revenue from mutual trade directly. Bahçıvan pointed out that integration is required in the banking system, which is the most important pillar of trade.
Referring to the energy as a key commodity in the bilateral trade, Bahçıvan noted that Iran has the world's second largest natural gas and fourth largest oil reserves, and Iran, providing half of Turkey's oil demand before sanctions, still supplied close to 30 percent of Turkey's oil demand despite the sanctions, adding that they expected this rate to boost.
Describing Iran as Turkey's second natural gas supplier with 10 billion cubic meters, dominating in a sector of natural gas, industrialists' most essential energy resource, Bahçıvan stressed that driving the Iranian natural gas price down, twice as high as other countries, to an affordable level would foster bilateral natural gas trade.
Bahçıvan continued his speech as follows:
"I would like to say that we believe that the bilateral trade must be enhanced and Turkish investments in Iran and vice-versa must increase. Bilateral increase in investments will surely serve every party. At this point, I think it is important to note that Iranian business people investing in Turkey, especially in the petrochemical industry, would contribute significantly to the elimination of the production deficit."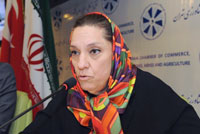 ICI President of Assembly Zeynep Bodur Okyay noted the meeting participants' function as trade ambassadors of two countries that have been coexisting in peace for centuries. With reference to the borders between the two countries unchanged for the last four centuries, Okyay pointed out that it was an exclusive privilege for a country in the Middle East to have borders not drawn by Western countries. Stating their confidence in increasing the volume of trade between the two countries to $30 billion and $50 billion gradually upon lifting of the embargoes, Okyay added that the Preferential Trade Agreement effective from January 2015 further improved relations and that it would be beneficial to increase the number of goods subject to customs duty within the scope of this agreement.
Noting that partnership between the two countries can be taken a step further through adoption of the win-win principle, Okyay warned about avoiding destructive competition. She said that Turkish business people's tourism investments in Iran may foster its economy, and new partnerships can be developed in automotive, retail, machinery and mining sectors. Okyay emphasized that they deem this new era as a milestone, and ICI Assembly was represented there in majority and entrepreneurs' efforts were essential in this new period.
The speeches were followed by a presentation on investment opportunities in Iran, and one introducing the ICI to Iranian audience. Following the presentations, Turkish and Iranian business people from the same sectors grouped around tables to discuss concrete partnership opportunities.