Our expectations from MTP...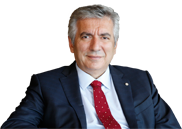 We are experiencing a very rapidly changing period, both economically and geopolitically. We need to follow up these changes and developments very closely. We do not have any time to lose.

In such a critical period, our efforts and search for a new balance continue. Our new government is having discussions and meetings with all the sections of our society, including us, ICI.

As part of this process, which is very valuable for our economy, we also had various meetings last month, primarily with our Vice President Mr. Cevdet Yılmaz. Another meeting was held at our Ministry of Trade hosted by our Minister Prof. Ömer Bolat with the theme of "2nd Half of 2023 Economy and Consultation Meeting". After that I attended the Investment Environment Improvement Coordination Board meeting with nine ministers, hosted again by our Vice President Mr. Cevdet Yılmaz in Ankara. I am very happy to say that we are having a very efficient and open-minded time during these meetings.

And it is why the new Mid-term Program which will be announced in September is very important for us. Some of our expectations from this program include a roadmap to strengthen our macro-financial stability, a basis for realistic solutions to our short term problems such as funding and most importantly the structural reforms needed by our industrialists and exporters in such a globally competitive environment. Another important issue that I would like to emphasize about the Mid-term Program is that we need to be determined about implementing this program.

I would also like to say that we should not cut the investment motivation and the investment energy of the industry while creating the MTP. We had the chance to discuss this issue in detail in our August Assembly held with the theme of "Evaluating Problems and Solution Suggestions of our Industry/Export World in Pre-MTP Period and Consultations for Restructuring the Economy" with our guests including our Minister of Trade Mr. Bolat, Vice Ministers of Trade Mr. Mahmut Gürcan, Mr. Mustafa Tuzcu, Mr. Volkan Ağar and their colleagues.

I would also like to share with you another happiness we had in our ICI Assembly which you will read more in the following pages. Our Istanbul Chamber of Industry received the Turkish automobile TOGG. We received it from Gemlik plants one day before our Assembly meeting and its plate number symbolizes the year of our chamber's establishment. I want to say that I see TOGG as an important achievement of our country and a vision inspiring other local investments.

At the end of last month we also celebrated the 101st Anniversary of our August 30 Victory Day, one of the most important victories giving us this motherland. Started on August 26, 1922 and continued for five days and nights till August 30, 1922, that big battle resulted with a definite victory of the Turkish military. It is the symbol of our union and solidarity today and we should appreciate this important day. Using this opportunity, I would like to extend my gratitude and pay my respects to the heroes of this victory, primarily Mustafa Kemal Atatürk and to all our martyrs.

I wish you all a happy, healthy and peaceful month.
Erdal Bahçıvan
Istanbul Chamber of Industry
Chairman