A Culture of Cooperation and Co-Creation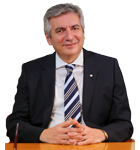 A fundamental concept plays a key role in the shaping of 21st century: Co-Creation, a highly influential notion discussed in many platforms across the business world, media and universities. Technological advancements are at the heart of co-creation, especially huge developments in communication technologies, digitalization and the internet. Today, there is a remarkably wide range of platforms for human interaction including blogs, video websites, twitter, facebook and instagram. Due to these dazzling options, people are no longer passive and tamed, satisfied with what's served to them. It's no longer organizations that create value, but individuals themselves.
Individuals are in the forefront, as distinct from individuals of the past: The rising value of today lies in participatory and sharer individuals who not only focus on their own interest but are capable of putting their competences and capacity to good use towards a common goal, joining forces with stakeholders to co-create.
This rising value also helps rise a culture of cooperation. According to experts, cooperation is something rarely observed among like-minded individuals let alone between different ones. However, latest developments in the world demonstrate the importance of dialog, negotiation and cooperation between those who are different from us if we are to solve a serious problem.
Research on the absence of and misgivings about a culture of cooperation reveal several negative reasons: Mistrust, lack of democratic governance, lack of transparency, out of purpose activities...
Those who are able to overcome these handicaps will be able to develop a culture of cooperation and foster co-creation. Those who achieve these goals will contribute to the shaping of the 21st century.
Erdal Bahçıvan
Istanbul Chamber of Industry
Chairman of the Board