Ruhsar Pekcan, the Minister of Trade was the guest of ISO October Assembly Meeting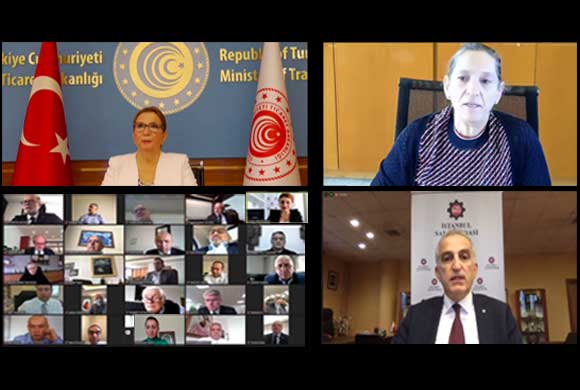 October Assembly of Istanbul Chamber of Industry was held as a video conference on the date of October, 23th 2020. The main agenda of ICI Assembly chaired by Zeynep Bodur Okyay, ICI Assembly President was "Focusing on Risks and Opportunities Against Our Industry While Aiming to Accelerate Economy and Export During Pandemic Period" Ruhsar Pekcan, the Minister of Trade was the guest of ICI Assembly and evaluated the agenda.
In his speech at the Assembly, İrfan Ozhamaratli, the Deputy President of Istanbul Chamber of Industry Board of Directors underlined that the rate of EU-based companies where Turkey has been included as well doubled and increased to 30 percent in the top three supply geographies; and said that: "After the pandemic, Turkish industry strengthened its supplier position. It is of great importance to increase the credit volume of Turkish Eximbank and support our industry and export by different instruments by developing new business models."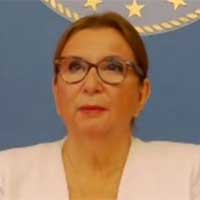 Ruhsar Pekcan, the Minister of Trade addressed the industrialists at the ISO Assembly: "Possible transformations to be seen in the global economy and trade structure in the next period will bring opportunities for Turkey doubtlessly. I believe that as Turkey, it is possible to strengthen our position in the global economy and global value chain in each scenario."
The October Assembly meeting was opened by Zeynep Bodur Okyay, the ICI Assembly President. Okyay briefly stated that:
"As industrialists, we have a strongly belief that production, productivity, innovation and innovation should be the basis of economic development. And the cornerstone of the production economy which we have been defending for years is export. Even though we have increased our share out of world exports in the last 20 years. Unfortunately, we are far away the point we want to be in. We used to have a 0.5 percent share in world exports in 2001; however, our share is around 0.9 percent today. But, the things are undergoing a transformation and this transformation will bringing very important opportunities for us. Whether we call is as trade wars, protectionism, and justice, the trend break experienced today indicates that it will change.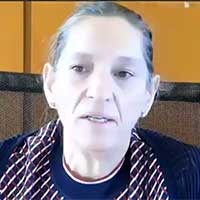 I would like to underline a fact before our esteemed Minister that projections focusing on the tension among USA, China and EU point out that nearly 15-25 percent of the global commercial flow might shift to different regions in the next five years. In other words, we are talking about an axial shift in trade ranging from $2.9 trillion to $4.6 trillion.
In such an environment, it is of crucial importance for Turkey that is intended to realize a strong breakthrough in any field varying from industry to logistics to prepare itself in a way to have a leading role in this transformation. We should reduce the dependence of production on import, diversify our export markets, increase our high-tech exports and strengthen our place in the global supply chain for sustainable exports.
Following the opening, Okyay, the President of ICI Assembly gave the floor to İrfan Özhamaratlı,
ICI Board of Directors Deputy President to make his speech. Özhamaratlı drew attention that Covid-19 showed the world the drawbacks of the supply chain's dependence on a single geography and continued: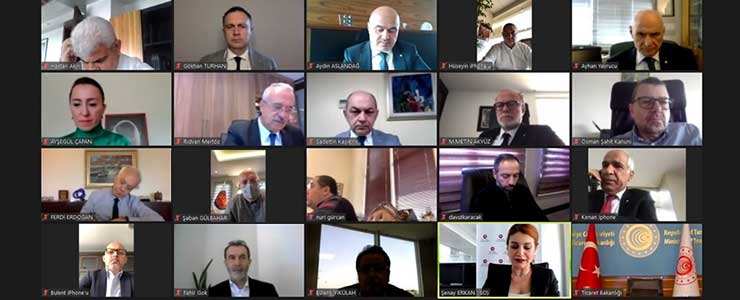 "Developed economies, including Europe, are looking for alternative supply centers. According to a research including more than 200 companies across the world and published in July,96 percent of these companies counted China among the top three supply geographies in the first half of 2019 which has however decreased to 75 percent in 2020. While the rate of AB-centered companies including Turkey in the first three supply geography was 14 percent in 2019, this rate increased 30 percent by a significant increase in 2020.
All these data and developments show us that Turkish industry has strenghtened its position as the supply point in many sectors with its dynamic production structure and advantageous geographical location, and new export opportunities have born accordingly. It is of great importance to increase the credit volume of Turkish Eximbank and support our industry and export by different instruments by developing new business models."
Mentioning that they have closely followed the Brexit which is the separation process of Britain which is the second largest trade partner following Germany from EU, Özhamaratlı stated that: "Britain is highly enthusiastic about maintaining our lending relations after Brexit. Collaborations with Britain in industry sector should be developed."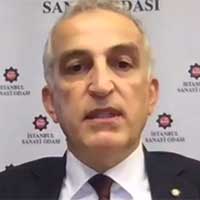 Expressing that the adjustments and additional taxes imposed on the import of many products for the protection of production and increasing the competitive capacity in Turkey during the recent years, Özhamaratlı said that: The taxes imposed on the import of products which have not been produced in our country or which have limited production or cannot be substituted with domestic production in the short term increase the costs of our export sectors that use these products as input and affect their competitive capacity in the negative direction.
It will be beneficial to perform tax adjustments for imports of such raw materials and intermediate materials, especially in steel, stainless and petrochemical products which are the concern of many sectors specifically through close consultation with the sectors.
Underlying that numerous new support factors such as the Easy Export Platform, e-commerce memberships and virtual trade fairs put into practice by the Ministry during the pandemic have made contributions to exporters, Özhamaratlı said that: "The incentives provided by our Ministry serve like a life line support. however, we witness that some delays are being experienced in return of such incentives in the recent period. Repayment of incentives on time will relieve our companies in terms of financing and allow institutions and organizations to benefit more from these supports."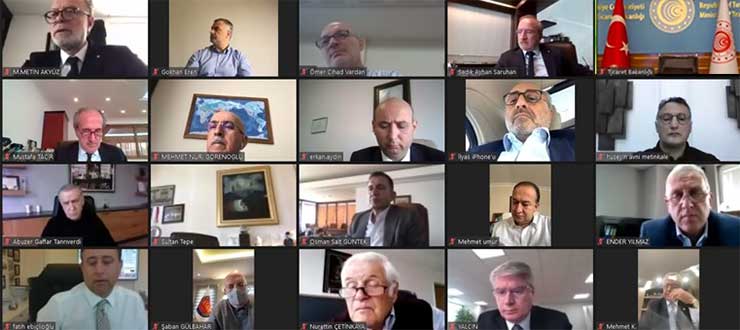 Ruhsar Pekcan, T.R Minister of Trade addressed ICI members and evaluated the global economy and Turkish economy in the pandemic period. Saying that they attach more importance to the consultation with NGOs in this period, and that they take into the demands and suggestions of NGOs consideration as the Ministry, Pekcan expressed that they conveyed the issues concerning other ministries to the relevant ministries and they are following the issues.
Stating that Turkey has already a strong legal cooperation infrastructure, deepened economic and commercial relations with its neighboring countries and regional trade partners, especially EU, Pekcan said that they will continue to work in collaboration with the business world in order to further advance these relations legally, technically and actually. Pekcan stated that the contribution of the private sector of crucial importance in upgrading the Customs Union.
Drawing attention that possible transformations to be seen in the global economy and trade structure in the next period will bring opportunities for Turkey doubtlessly, Pekcan noted: I believe that as Turkey, it is possible to strengthen our position in the global economy and global value chain in each scenario." As Turkey, we can further improve our potential and capacity in the production and export with our our human resources, our geo-strategic location, our value added-focused economy and our quality production structure. During the next period Turkey will maintain its position as one of the most dynamic actors in the global economy. Within this framework, it does not seem very difficult for us to have new gains by turning the opportunities in favor of us.
Therefore, we will continue our work as open to the suggestions and cooperation of our business world.
Telling that they took significant measures to circumvent this process with the least damage and to ensure the sustainability of foreign trade as much as possible since the beginning of the pandemic, Pekcan underlined that they rapidly took steps to support business people in this process.
Recording that they paved the way for the continuation of trade uninterruptedly with contactless trade practices, provided convenience at customs, put into use many digital applications, and organized virtual trade delegations and virtual fair programs, Pekcan noted that additional facilities were provided through Eximbank and new financial products were put into use, and e-commerce was supported.
Pekcan said that: "We showed our resistance to the pandemic and we continue to show as Turkish economy thanks to the support of our state and the always determined, devoted, intelligent and creative work of our business people. We should achieve our goals through state-private sector-nation cooperation."
Providing information about the successful works of the Ministry such as Easy Export Platform, Virtual Trade Academy, Export Academy and Online and Physical Women Entrepreneur Network programs, Pekcan notified that the works and efforts aimed at spreading the exports to the base will continue in the upcoming period.
Minister Pekcan evaluated that: With its resistance and dynamism, Turkey will overcome this process with the least possible damage and we will continue our way in the future much more advantageously. To do so, we should focus on our own goals and potential and increase our production and exports as value-added as possible and with a high rate of localization as possible.
We will continue to work together, in consultation and collaboration. We will continue to support you with our financial support and technical studies as well as the the will of the state. We will take action fast to solve the problems, technical and bureaucratic problems that you have faced with as we always do.
Following the speech of Minister Pekcan, ICI Assembly Members shared their opinions and directed their questions to the Minister. Pekcan answered the questions of ICI Assembly Members.