ICI and Universities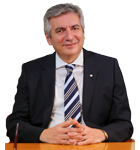 Everybody admits the fact that knowledge is the greatest power of the 21st century. Based on this fact, Istanbul Chamber of Industry lays significant emphasis on cooperation with universities, hotbeds of knowledge.
Last year we founded the "Industry Platform" with seven strong and well-established universities in Istanbul. Selfless efforts ever since have borne fruits.
We are in the process of launching sanayiprojeleri.com website for our members. This is an industry portal which will deliver project demands of our companies to technology transfer offices of universities in a fast and reliable way. The portal will also help develop joint projects.
"Industry Technopark Commission" was established under the leadership of ICI in an effort to help industrialists and Technology Development Regions work towards the same goals and reinforce cooperation and communication. The stakeholders of the commission include, among others; ICI Board Members, ICI Assembly Members, TGBD – Association of Turkish Technology Parks, angel investors, universities, entrepreneurs in technoparks and Borsa Istanbul representatives. The first meeting of the commission was the first step towards a future that breeds hope.
We are pleased to observe that our universities attach more and more weight to patents. ICI wants to contribute to these efforts by acting as an intermediary to commercialize these patents. As a sign of our determination and active involvement in this issue, we bring together industrialists and patentee academics from Istanbul University.
The biggest shortcoming of Turkey today is the inadequate level of technology-based production with high-added value. The work carried out at İTÜ ARI and the support provided to young entrepreneurs are heartening developments in terms of overcoming such shortcoming in the future. ICI works towards engaging in activities led by İTÜ ARI.
Only with the support of our industrialist members can we yield the much-desired fruits of our efforts. I would like to especially underline our expectation for higher support and contribution from you on this issue.
Elections are a celebration of democracy, playing an important role in peace and prosperity in countries. I hope that the general elections to be held on June 7, 2015 will benefit our democracy, stability and economy.
Erdal Bahçıvan
Istanbul Chamber of Industry
Chairman of the Board