Women and Holistic Development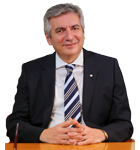 Today, there is a direct correlation between a country's economic and human development and women's participation in social and professional life in that country.
On the other hand, it is a universally accepted fact that labor force participation rate for women must be increased in order to ensure sustainable economic growth. Studies have shown that, by better utilizing women's skills more effectively, a country can achieve a GDP growth of up to 2 percent.
Looking at our country, for 64.4 percent of females aged 25 and up, the highest level of education attained is primary. Insufficient education, without a doubt, has a negative impact on women's employment. For this reason, the ratio of women's participation in labor force in our country is way behind those seen in developed countries. We should not forget that Education is one of the key tools to eliminate the current inequalities against women, and one of the most important drivers of social transformation.
On the topic of participation in employment; we are aware that Turkey has achieved a certain level of improvement in terms of labor participation and employment for women over the past few years as a result of incentives aimed at the development of the service industry and women's employment. However, labor participation rate among women is still as low as 30 percent, which puts Turkey behind other OECD countries. Also, regarding entrepreneurship, the overall picture is not sufficient and bright for women. According to Turkish Statistical Institute's survey data for 2014, the ratio of female entrepreneurs in Turkey is a mere 15.7 percent.
In sum, a holistic and sustainable development is only possible by integrating women into the economic system as both labor force and entrepreneurs. I believe wholeheartedly that by overcoming the obstacles to women's participation in the economy and the society, we will pave the way to a more peaceful Turkey, and a more peaceful world.
At this point, I would like to note that, at Istanbul Chamber of Industry, one our primary missions is to provide an active support for efforts and initiatives in this area.
Erdal Bahçıvan
Istanbul Chamber of Industry
Chairman of the Board