ICI Discusses Investment Opportunities in Sudan in Sudan Country Day
Istanbul Chamber of Industry (ICI) held 'Sudan Country Day' meeting to assess the investment and cooperation opportunities between Sudan and Turkey. Many industrialists and businesspeople attended the meeting that was hosted by Sadık Ayhan Saruhan, ICI Accounting Member of Board of Directors.
In the opening speech, Sadık Ayhan Saruhan stated that they had gathered to assess and improve the business opportunities between Sudan and Turkey. Saruhan reminded that Abdalla Ahmed Hamad, Khartoum Investment and Industry Minister, and Adil Mohamed Osman Ali, Khartoum State Finance, Economy and Consumer Relations Minister visited ICI on 15 December 2017, and stated that they had the chance to discuss subjects such as customs, banking, visa and residential permit during this visit. Saruhan said that they are gathered here today to discuss these subjects in more detail on the occasion of Sudan Country Day.
Stating that the political relations between Turkey and Sudan are at optimum level and the cooperation at international organizations and platforms continues increasingly, Saruhan named Sudan as one of the countries that Turkey has the most comprehensive relation and cooperation with in Africa. Saruhan mentioned the official visit of Turkish President Recep Tayyip Erdoğan to Khartoum, the capital of Sudan, on 24-25 December 2017, and attracted attention to the "High Level Strategic Cooperation Council" established between these countries during this visit to improve the relations further. Saruhan, also, said that they had signed a total of 22 agreements mainly concerning the subjects of healthcare, agriculture, cold storage and airport construction.
Saruhan continued: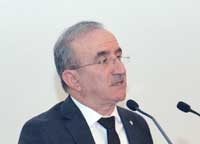 "At the Turkey-Sudan Business Council held within the scope of the delegation visit, the goal regarding the business volume between two countries was set as 1-2 billion dollars in the short term and as 10 billion dollars later. In this sense, Turkish private sector has a significant role to perform. During these contacts, it was clearly stated that Sudan government is ready to provide support in solving any issue that may arise in Sudan operations of Turkish private sector. Our recently increasing and improving commercial relations with the public of Sudan, a brother that we have deep historical and cultural ties with, are pleasing. And we sincerely wish that this cooperation benefiting both countries will exponentially increase."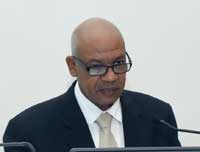 After Saruhan, Sudan Istanbul Consul General Dr. Emad Mirghani Altohamy took the stage. Altohamy stated that there is a historical friendship continuing for ages between these two countries. Mentioning the progress in relations thanks to the recent reciprocal visits of Turkish President Recep Tayyip Erdoğan and Sudan President Ömer El Beşir, Altohamy stated that contracts regarding economy, commerce and investments were signed during these visits.
Altohamy made a detailed presentation to the audience about the Sudan economy and investment areas, talked about the importance of agriculture for the national economy and stated that they need investment especially in the field of agricultural industry. Altohamy stated that Sudan should not be considered singly since the investments in this country will help accessing the markets of others, emphasizing the COMESA (Common Market for Eastern and Southern Africa) membership of Sudan and thus its opportunity to export goods to these countries.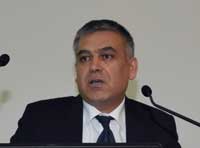 After this speech, Export Improvement Specialist of Turkish Ministry of Economy - Ümit Sevim made a presentation regarding the potential opportunities for Turkish industrialists and investors in Sudan in a panel titled "Cooperation and Investment Opportunities in Sudan Market". Sevim reminded that Sudan was the largest country of Africa before its division in 2011, and said that the country still owns the most productive agricultural fields of the south despite of the dessert climate in the north. Sevim attracted attention to the fact that the oil revenue share decreased to 8 percent in 2017 after the division of the country while it supplied almost 60 percent of its national budget in 2010, and thus the country began to focus on gold production as of that date. Sevim stated that there had been issues regarding seasonal workers due to the masses producing gold. Sevim added that the banking industry was affected negatively from the USA embargo, but the embargo was finally removed on 12 October 2017, and that China is currently the leading country in terms of investments to Sudan.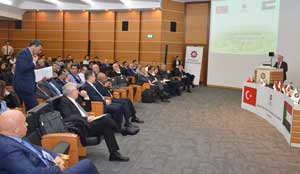 Later, a panel titled "Experiences of Turkish Companies in Sudan Market' was held. In this panel that was moderated by ICI Assistant Secretary General Mehmet Dolgan, Sur International Vice General Manager Mustafa Mente, Cantek Cooing Machinery Industry Chairman Can Hakan Karaca and Elkon Concrete Plants General Manager Mustafa Alpagut shared their experiences regarding their Sudan investments. At the end of the panel, the questions of the audience were answered by the panelists.