ICI Green Agenda Talks starts with "Climate Change, Ecological Balance, and Forest Fires"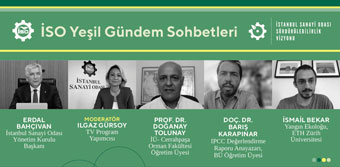 The Istanbul Chamber of Industry (ICI) has been working with the vision of "Sustainable Production" starting this year in order to adapt Turkish industry to changing expectations in global climate change and international trade while also producing high added value. For this purpose, ICI has launched the "ICI Green Agenda Talks" series. The series began with a panel discussion on "Climate Change, Ecological Balance, and Forest Fires."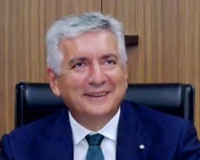 Hosted by ICI's Chairman of the Board of the Directors, Erdal Bahçıvan, the panel was held online on 11th of August with the participation of Istanbul University Cerrahpaşa Faculty of Forestry, Soil Science and Ecology Department Lecturer Prof. Dr. Doğanay Tolunay, Boğaziçi University Faculty Member and Author of the Intergovernmental Panel on Climate Change (IPCC) Evaluation Report Assoc. Prof. Dr. Barış Karapınar and Fire Ecologist İsmail Bekar from ETH Zurich University, under the moderation of the journalist and TV program producer Ilgaz Gürsoy. Panelists debated about disasters, their causes, and the steps that may be taken to prevent them, particularly forest fires, which have escalated at an unprecedented pace in the world compared to past years, and have claimed lives in many provinces across our country.
In his inaugural statement, ICI Chairman Erdal Bahçıvan drew attention to the fact that recent fires have destroyed forests that serve as carbon sinks, ushering in a new period of disaster in the air pollution cycle. Bahçıvan said: "ICI deals with disasters, the climate issue, and its effects in light of science. We are faced with the widespread and catastrophic effect of climate change, which is the most severe manifestation of the ecological catastrophe. Despite the fact that this predicted issue is inflicting profound wounds in our daily lives, the states of the world continue to resist limiting their carbon emissions. As stated in the latest report of the UN Panel on Climate Change (IPCC) earlier in the week, we see a new record breaking almost every month for the amount of carbon in the atmosphere. The real pain is that we are gradually losing our forests, which are nearly our only assets capable of limiting this density. The world, our country is in flames. Our forests are burning. We have arrived at a stage where everyone's attention should be drawn away from the meeting rooms to this critical subject. From politicians to scientists, to the business world, to artists, we should talk about climate change, listen to science, and disseminate the need for immediate action. Because our world is going through the days when the impacts of climate change are becoming detrimental to nature and human life."

We must reduce our share in damaging the world
"We are now at the point of accepting the climate change that we are experiencing with the disasters that are coming more rapidly with each passing day and we need to take necessary measures as soon as possible" said Bahçıvan. "If we want to leave a livable world to our children, youth and future generations, there is an action that we should all take, both in terms of thought and practice. We must end our vulgar acts of the past and reduce our share in damaging the world by using our resources better and more efficiently.
"We, as ICI, are aware of the gravity of the situation and have selected the most crucial subject in our sustainability research. We have concentrated on the sectoral implications of climate change and on the efforts to both mitigate and adapt to these effects. The ICI has acted with this sense of responsibility in both its production and business operations so far and will continue to set an example and do its part in the future. With the "Green Agenda Talks" meetings that we started today and will continue, we will make an attempt to convey the useful analyses that will emerge from such studies as a 'manifesto' to our country's agenda in order to create public opinion."

Signals of progress from US to South Korea
Underlining that building a more sustainable and climate-resistant world is now the only option for ensuring life, Bahçıvan said: "The natural events that occur in different parts of our world every week, including the forest fires from California to the Mediterranean countries that include our country, from floods in Germany to typhoons in China, indicate that we are now living right in the middle of this reality. We have also witnessed some steps taken during this period. The United States returned to the Paris Agreement and presented a stronger, more robust national climate plan. Last week, the US President Joe Biden signed a decree foreseeing that by 2030, 50 percent of all passenger cars and light trucks in the country will have zero emissions. While the EU has set out a plan to create a carbon-neutral continent by 2050 with the Green Deal, Japan, South Korea, and more than a hundred other countries have made similar pledges. China has pledged to meet that goal by 2060. These are signs of progress."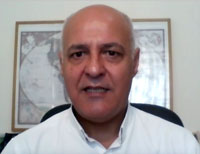 Prof. Doğanay Tolunay spoke first after the opening statement and emphasized that climate change has placed many important duties, particularly on all segments of society. Stating that deforestation is caused by many human-induced factors besides forest fires, Tolunay said, "Reforesting forest areas is not deforestation. But when a forest area is not reforested in more than 10 years, this means that that area has lost its forest status. There's a big connection between deforestation and climate change, and they affect each other. For example, there was a flood in Bartın today. Likewise, we have recently experienced such incidents in many other provinces, and we foresee and believe that we will continue to do so even more in the future. Loss of forests and the fires that occur are the factors that accelerate such natural disasters." 
Addressing the subject of urgent action plan regarding forest fires, Tolunay said, "A thermal power plant has escaped a fire hazard. There is no fire risk assessment for such facilities. They should pay attention to the choice of location, they can both cause forest fires and be affected by forest fires. You should be very careful when choosing any place in the forest. Creek beds, flood beds, farmland areas should be excluded when choosing a location."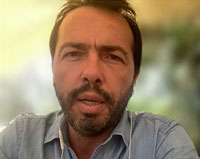 "The IPCC report is an alarming one" said Assoc. Prof. Barış Karapınar, noting that the projections written in the report since 1990 have all been become true. Karapınar continued his speech as follows: "Greenhouse gases have reached their highest level in two million years. Of course this is a human-related issue. The rise in temperature over the past 50 years is the highest rise of the last 2000 years. We have now observed a temperature increase of 1.1-1.2 degrees. Forest fires, droughts, and disasters such as floods are on the rise in Turkey and around the world. This year forest fires broke record globally. Agriculture is among the important climate risks. Wheat in particular results in a yield reduction of up to 70%.
"If we do not cut or reset our emissions, we will see a temperature rise of 4-5 degrees, which the planet will not be able to cope. The next 15 years are critical, and if we do not take drastic measures, even more self-triggered ecological crises are likely to occur. Today, the cost of forest fires is only about $100 billion when we look from an economic perspective. Nature is showing signals. It is necessary for people to make peace with nature and to act together with nature."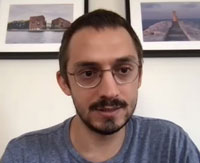 İsmail Bekar explained the concept of the fire regime: "Although what we expect at the moment is for fires to follow natural historical fire regimes, there has been a change in the fire regime due to human-induced climate change. There is a certain fire regime in the Mediterranean ecosystem. Trees adapt to fires in certain forests, especially in the Mediterranean. If things grow out of the historical fire regime, if the fires start to be seen more often or if the seasons that we call fire seasons are prolonged, then in addition to experiencing a fire disaster, we also endanger the existing ecosystem. Of course, rising temperatures and increase in droughts are the factors that accelerate the risk of fire. For example, if the same fire broke out in the Amazon forest, for example, it would be a larger calamity since the Amazon forest lacks the ability to regenerate. Burning areas should be monitored. Yes, nature has the ability of regenerating itself, but we want nature to do it on its own if possible. We follow them up and if we see any problem in the natural process, then it would be useful to intervene in these areas."
Following the speeches, the panelists answered questions from the audience.