ICI Kosovo Country Day: Co-operation and Investment Opportunities in Kosovo, the Young Country of the Balkans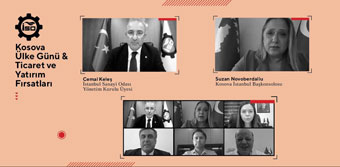 The Istanbul Chamber of Industry (ICI) organised the Kosovo Country Day & Trade and Investment Opportunities Seminar to inform members and businesspeople about opportunities for economic co-operation in the young Balkan nation Kosovo. Kosovo Consul General in Istanbul Suzan Novoberdaliu attended the event which was organized as a video conference and hosted by Cemal Keleş, a member of the ICI Board. The event drew a large number of businesspeople and industrialists.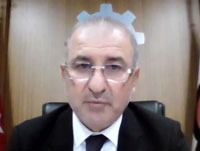 Speaking at the opening of the meeting, Cemal Keleş, the Board member of ICI, emphasized that Turkey's historical, cultural, and geographical ties with the Balkans are well-known around the world, stretching back to the Ottoman Empire. "Strengthening good relations with Kosovo, a young and energetic Balkan country, will enhance the region's stability and economic development" said Keleş.
"The atmosphere of trust created by the good relations with Kosovo also showed itself economically. The trading volume between Turkey and Kosovo climbed to 439 million dollars in 2019 from 345 million dollars in 2018, and despite the global economic recession caused by pandemic conditions, it was at the level of 420 million dollars in 2020 with a minor loss. We believe that the first quarter statistics for 2021 indicates that trading volume will begin to expand once more. 
"Even though the trading volume has increased by nearly 40 percent since 2015, there is much greater potential and opportunity in trade relations between the two countries. Turkey ranks fourth with $377m in foreign direct investments to Kosovo. There are significant investment opportunities in industries such as health care, contracting, ready-made clothing, and construction materials, with textiles, food and machinery industries taking the lead.
"10% customs duty burden that Turkish companies face in exports to Kosovo will gradually disappear in a 9-year period as a consequence of the Free Trade Agreement signed between the two countries in 2013, which entered into force in 2019. The customs tax has already been zeroed in 493 product groups under 8 bases within this context. 
In light of these developments, we should strive to increase our foreign trade volume to higher levels in a short period of time. Kosovo is an important country for Turkey in terms of bilateral economic relations as well as the transportation of Turkish products to the EU."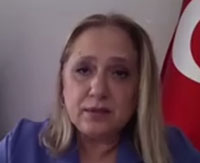 "Kosovo is the youngest country in Europe" said Suzan Novoberdaliu, Kosovo's Consul General in Istanbul. Pointing out that the country has managed to create a safe environment for doing business and remains stable, she said that a new law was in place, which was approved in 2013 and provides convenience to foreign investors. Novoberdaliu explained that they equated the foreign investors with locals, that they have a low-cost, qualified workforce that can compete with the region's countries. 
"Kosovo has the lowest tax in Europe — a 10% corporate tax and a 5% mandatory pension contribution. We provide great opportunities in industries such as energy, viticulture, mining and tourism. CEFTA encompasses free trade agreements that cover Albania, Serbia, Montenegro, Bosnia and Herzegovina and Northern Macedonia. Kosovo has signed a consensus document with the EU on market liberalization and Kosovo will continue its sustainable tax policies and work to improve the investment process."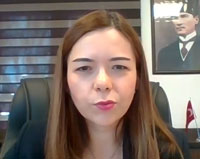 After Suzan Novoberdaliu, Gözde Eroğlu, Ministry of Commerce's Kosovo-Pristina Commercial Counselor, held a presentation titled Kosovo Trade, Co-operation and Investment Opportunities. Stating that Turkish businesspeople have invested in Kosovo for many years, Eroğlu said that starting a business in Kosovo is very easy and there are not many procedures. "Imports are very high and there is an asymmetry in the country's foreign trade" said Eroğlu. "Kosovo has made progress in its exports. Turkey ranks second after Germany in the list of countries Kosovo imports from and Turkey ranks tenth in exports to the country. Mostly petroleum, tobacco and plastic products are exported. Turkey ranks fourth in direct investments after, Switzerland, United Kİngdom." Eroğlu also noted there are four Turkish banks in Kosovo. 
After the speeches, a panel titled "Experiences of Companies Doing Business in Kosovo" was held under the moderation of 
Mehmet Akif Meral, ICI Assistant Manager, EU and International Relations. At the panel, Ferhat Naci Güngör, Vice President of DEIK Turkey-Kosovo Business Council; Erdal Şahin, Project Development Manager at Güriş İnşaat ve Mühendislik A.Ş., and N. Ayhan Demirkıran, CEO of Atlantik Group, shared their experiences in the Kosovo market with the audience. The panelists answered questions from the audience following the speeches.