Istanbul Chamber of Industry (ICI) Published February 2023 Report on Manufacturing PMI Developments in the World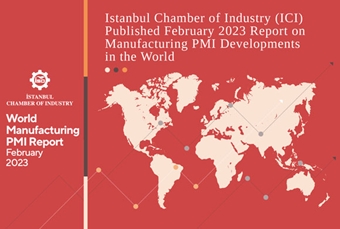 Istanbul Chamber of Industry (ICI) published February 2023 Report on the developments in the Global Manufacturing Purchasing Managers' Index (PMI) in the World. The Global PMI rises to 50.0 in February up from 49.1 in January. After a five-month run of signalling contraction, the PMI index posted a reading identical to the no-change mark. In February, output rose for the first time in seven months. Delivery times of suppliers improved after three and a half years amid China's re-opening as COVID restrictions were lifted. And new order intakes move closer to stabilising, while employment rose for the first time since October.
In the Manufacturing PMI survey conducted in 31 national economies, the number of countries posting above the no-change mark of 50.0 increased to 17 in February from 12 in January. The performances of the manufacturing sector of the North America, Europe and South America remained weak in comparison to Asia.
The details of the report are as follows: