Istanbul Chamber of Industry (ICI) Published January 2023 Report on Manufacturing PMI Developments in the World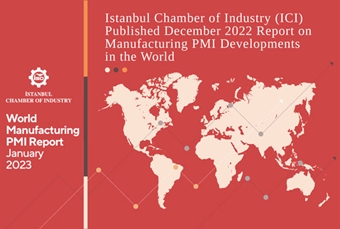 Istanbul Chamber of Industry (ICI) published January 2023 Report on the developments in the Global Manufacturing Purchasing Managers' Index (PMI) in the World. At 49.1 in January, the Global PMI signalled a deterioration in activity conditions for the fifth consecutive times on monthly basis. The index rose by 0.4 points to 49.1 in January, showing signs of easing. Rates of contraction in output, new orders and export in January were the modest since August 2022. The employment showed a slight increase in January after a decline in November and December. Still, the sharp decrease in backlogs showed the continued idle capacity in the sector.
Only twelve out of the 31 nations for which the Manufacturing PMI were available remained above the 50.0 mark.
The details of the report are as follows: