Istanbul Chamber of Industry (ICI) Released April 2023 Report on Manufacturing PMI Developments in the World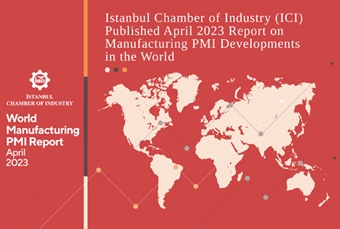 Istanbul Chamber of Industry (ICI) released April 2023 Report on the developments in the Global Manufacturing Purchasing Managers' Index (PMI) in the World. The Global PMI posted 49.6 in April as it did in March. The PMI has stayed below the neutral 50.0 mark for eight successive months. Global manufacturing new orders continued to fall, despite the increase in output for three successive months. Still, there is a significant improvement in manufacturers' expectations of output for the next 12 months. April saw a slight increase in employment as well.
Shortened supplier lead times affected the headline PMI downward which was effective in most of the countries. Furthermore, in April, lead times shortened to the greatest extent since May 2009.
The details of the report are as follows: