Istanbul Chamber of Industry (ICI) Released June 2023 Report on Manufacturing PMI Developments in the World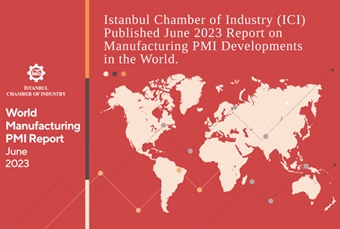 Istanbul Chamber of Industry (ICI) released June 2023 Report on the developments in the Global Manufacturing Purchasing Managers' Index (PMI) in the World. Global PMI dropped to 48.8 in June, a six-month low and down from 49.6 in May. The PMI remained below the 50.0 no-change mark for ten consecutive months. The 2Q23 average of the index dropped to 49.3 after the 1Q23 average of 49.5.
After 4-month growth in output with the opening of China and improvement in supply chains, output growth slowed notably in June with accelerated contraction in new order. Especially the weakness in international trade held down the demand significantly. 20 out of 31 nations saw worsening in operating conditions in the manufacturing industry, while 17 nations posted lower index rating than May.
The details of the report are as follows: