Istanbul Chamber of Industry (ICI) Released March 2023 Report on Developments in the World Manufacturing PMI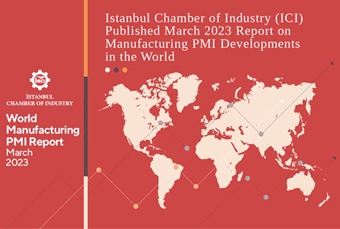 Istanbul Chamber of Industry (ICI) released its March 2023 Report on the developments in the Global Manufacturing Purchasing Managers' Index (PMI) in the World. The global PMI dropped to 49.6 from 49.9 in February. However, a slight improvement was seen in the index during the first quarter of 2023, as it increased to 49.5 from average 48.9 in the fourth quarter of 2022. The global industrial output in March showed a steady, moderate growth trend, with a positive sign as the decline in total new orders continued to slow down. 
The continued weakness in export orders suggests that the recovery is mostly due to the internal demand conditions of the countries. Cost inflation and supply chain pressures ease further.
The details of the report are as follows: