Jaime de Bourbon de Parme, Prince of the Netherlands and Climate Envoy, visits ICI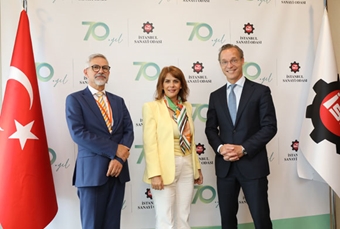 The OECD delegation which consisted of the Dutch Climate Envoy Jaime de Bourbon de Parme, Dutch Consul General Arjen Uijterlinde and OECD Istanbul Center President Achraf Bouali visited the Istanbul Chamber of Industry (ICI). 
Istanbul Chamber of Industry (ICI) Board Member Sultan Tepe hosted the delegation at the meeting which addressed our country's climate change adaptation and emissions reduction strategies after the Paris Agreement and the current state of the industrial sector in this field.
The meeting addressed the importance of developing common technologies in the circular economy, particularly in the textile sector, as well as the impacts of climate change from the perspective of industry and what should be done between the two countries for transition to a low-carbon economic model. 
At the meeting, the participants also discussed the energy infrastructure for energy sources like solar, wind and geothermal and the electricity generation resource distribution in our country in today's world where carbon intensity depends on the energy used, and addressed the issues of maximum use of renewable energy and energy efficiency. During the sessions, it was emphasized that assisting the Turkish industrial sector in its green transformation through the use of renewable energy would be the most essential and critical factor in decreasing the country's carbon footprint.