Turkish and UAE Delegations met in the Investment Workshop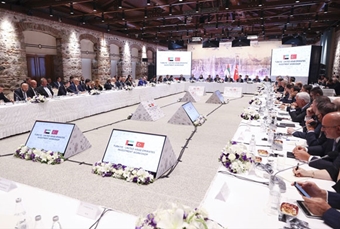 Business world met in the Turkish-BAE Investment Workshop. Sultan Ahmed Al Jaber, UAE Minister of Industry and Advanced Technology; Thani Al Zeyoudi, UAE State Minister-Foreign Trade; Sarah Al Amiri, UAE State Minister-Public Training and Advanced Technology; Burak Dağlıoğlu, Head of the Investment Office of the Turkish Presidency; Ali Taha Koç, Head of the Digital Transformation Office of the Turkish Presidency; and Deputy Ministers Hasan Büyükdere and Mehmet Fatih Kacır, as well as Zeynep Bodur, the President of ICI Assembly; Erdal Bahçıvan, Chairman of ICI; and Mustafa Gültepe, Chairman of Turkish Exporters' Assembly (TİM) participated in the investment workshop hosted by Mustafa Varank, Turkish Minister of Industry and Technology and organized at Dolmabahçe Work Office of the Presidency on July 13, 2022.
The relations and cooperation possibilities between the two countries were addressed during the workshop. In addition to the talks between the counterpart ministries, the cooperation possibilities were evaluated between the representatives of the public and private entities and the leading companies of UAE.